Community Rallies to Restore 400-Year-Old St. Augustine Mission

Earliest known photo of St. Augustine Mission, c. 1867.
As it approached its 400th year, St. Augustine Mission in the Pueblo of Isleta, 15 miles south of Albuquerque, N.M., was showing its age.
Built in 1613 by local masons and craftsmen, the adobe church, which for generations has been a place of worship and a community gathering space, as well as a popular tourist attraction, is one of the oldest and largest Spanish missions in New Mexico and a striking example of local Puebloan architecture.
"We're very proud to have this church, with this significance in America's history," says Alan Cherino, a longtime member of the church.
When community members at the Pueblo of Isleta formed a restoration committee in 2004, Frank Lujan, then-governor of Isleta, had one demand: to make the mission, which had been well maintained throughout its life, look just as it did on the day restoration began.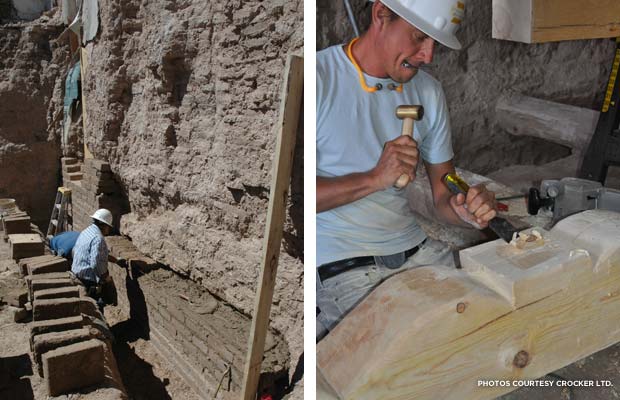 (l.) Restoration began well below the surface of the mission; (r.) A craftsman carves a new Zapata.
For the next few years, Cherino and the other members of the restoration committee, along with the cultural committee, comprised of religious leaders and elders, worked on developing a plan of action.
"When we first started figuring out how to restore the church, we knew it wasn't going to fall next week or next month," Cherino says. "We knew we had years on our side. But as the years went by, as the decades went by, something most likely would happen. Maybe a wall would begin to break down. We knew we had time, though, to get a solid plan in place and move forward to restore it."
A conditions report was completed in 2005 with the help of Cornerstones Community Partnerships, a nonprofit historic preservation organization that specializes in the preservation and maintenance of historic adobe structures. It was found that the cement used to patch parts of the adobe walls in years past had been trapping moisture in the walls, causing deterioration. Other parts of the church were found to be in need of stabilization.
When a project manager, Neil Carter Associates, and a contractor, Crocker Ltd., were hired, the 16-month restoration began moving at full steam. Members of the committees and subcommittees, all community members, met with the project manager and contractor weekly to approve the work, make design decisions, and discuss the progress being made.

A new belfry is lifted in place.
"All that decision-making, that's really how the community got involved," Cherino says.
The contractors, along with local laborers and craftspeople who where hired for the project and learned adobe restoration and carpentry on the job, first stabilized the structure. Many adobe bricks were completely reconstructed, others repaired. The flooring was repaired, the belfries were rebuilt, and walls in the chancel and sanctuary were dismantled then painstakingly rebuilt.
"Working with these kinds of structures, when you have to tear out a whole wall, you cross your fingers that something else doesn't go wrong -- that other walls won't fall apart on you," Cherino says. "But our contractor was very well-qualified and rebuilt it properly. It looked like it had never been touched."
In addition to the stabilization and restoration of the mission, many of the systems were updated. A new HVAC system was installed and new stereo components added.
Ancient murals discovered throughout the inside of the mission were catalogued and conserved.

The restored mission ready for the rededication mass on Aug. 13, 2011.
The community-led and community-funded project was completed in 2011. A re-dedication ceremony was held on August 13 of that year, drawing upwards of 1,000 people to celebrate St. Augustine Mission's re-opening.
"We're very proud of our church and very proud of the community support we had," Cherino says. "And we are proud to now have this building, this church, for our future generations."
For this extraordinary community effort, the National Trust for Historic Preservation honored the Pueblo of Isleta with a 2013 Preservation Honor Award.
"What an amazing thing for us to be in charge of this church that was most likely built by our ancestors," Cherino says. "And here we are, in my lifetime, being a part of its care and being able to restore it."
Like this story? Then you'll love our emails. Sign up today.