DeKalb's Historic Egyptian Theatre: A Pharaoh-Inspired Space Gets a Lively Afterlife
(l.) Dekalb's Egyptian Theatre in 1938; (r.) its restored facade today.
For decades, when the people of DeKalb, Ill., have spent an evening out at the movies, or attended a concert or other event, they've done so under the watchful eye of Ramses II.
The Egyptian pharaoh, who reigned from 1279 to 1213 BC, served as inspiration to architect Elmer F. Behrns when he designed the northern Illinois community's downtown landmark, the historic Egyptian Theatre, in 1929. Behrns channeled the ancient ruler as he envisioned a temple-like entrance flanked by two pharaoh sculptures, an elaborate sacred scarab beetle-centered stained glass window, and a colorful tiled lobby floor.
At the time, Egyptian architecture was a nationwide craze set off by the discovery of King Tut's tomb in 1922. Today, DeKalb's Egyptian is one of few left standing. But standing it is, and even 84 years after it was built, the regal structure is still drawing loyal crowds.
Designed as a combination movie house and vaudeville stage, the theater opened in the heart of downtown DeKalb December 10, 1929 after an estimated construction cost of about $250,000 (the stock market crash kept crews from erecting additional outbuildings Behrns' plans called for). That initial event, a screening of "talkie" film The Hottentot, was the first of decades of entertainment to pass across the theater's stage and screen.
In the 1940s and '50s, the Egyptian was home to mainly movies, with an occasional live event such as then-Senator John F. Kennedy making an appearance in 1959 just three months before announcing his presidential candidacy. In the early '70s, the theater hosted concerts for groups like Journey and Heart. By later that decade, however, the structure was showing its age: seats were in disrepair, interior murals were crumbling, and plumbing was faulty at best. In 1977, the historic Egyptian was closed.

The interior in 1978
But the people of DeKalb wouldn't give up on their beloved theater that easily. Concerned citizens' efforts landed the empty building on the National Register of Historic Places in 1978. In 1982, the newly-formed Preservation of the Egyptian Theatre, Inc. (PET) received a state grant of $2.3 million to use toward repair and restoration. The Egyptian reopened its doors in the fall of 1983.
"No matter who you run into or talk to that comes into the theater, [they have] some story of either working there when they were in high school or they went on their first date there, danced on stage there for the first time as a kid," says the theater's executive director, Alex Nerad.  "So that's the part, I think, that keeps it alive."
Today, the theater hosts primarily live events, though movies are still part of the mix too. In the last six years, more than $1.5 million has been invested in building rehabilitation and maintenance, with plans to install a sprinkler system set for this summer. When the theater's original seats were replaced in 2011, PET, which still operates the building, offered the historic seats for sale to the public as a fundraiser. They quickly sold out.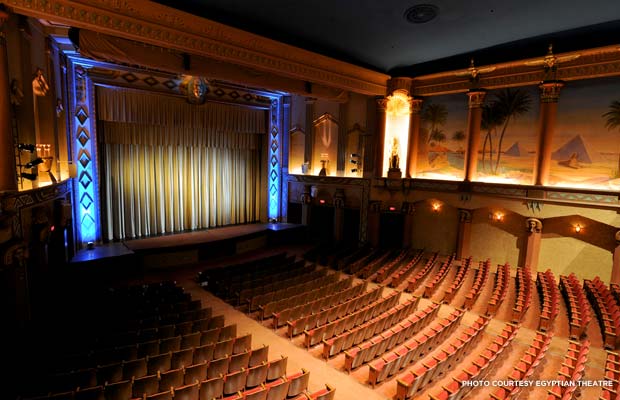 The restored interior today
"It was just amazing to hear all the stories. People were extremely appreciative that we were giving them the opportunity to have a piece of history," Nerad says. "And for us, we really wanted to see all of these go to good homes, not just go to the landfill."
Other creative tactics have brought in funds for the theater too: A paranormal investigation team approached Nerad a few years ago about surveying the site for spooky signs of afterlife. Their findings prompted popular haunted tours for the public and private rental opportunities for other similar groups.
Moving forward, Nerad and his staff hope to kick off a capital campaign to address some of the building's infrastructure issues and possibly even expand the space in the coming years to accommodate its growing number of visitors.
"Every day there's something that breaks or changes," Nerad says with a laugh.  "You have to have a good sense of humor to be able to keep up with these old buildings."
And keeping up is something he's happy to do.
Like this story? Then you'll love our emails. Sign up today.