Heart Bombs 2015: Love Letters to Historic Places, Part 2

Members of the Brockport, New York community showed their love for the 60 Clinton Street building by conducting a Virtual Heart Bomb campaign.
We had so many heart bombs shared with us this year that we couldn't fit them all into one post (read part 1 here). So we're extending the love with another affectionate round-up! Thanks again to everyone around the country who showed up to shower love on historic places near and dear to their hearts -- and now to ours.

Keokuk Savings Bank -- Keokuk, Iowa
"Keokuk Savings Bank was built in 1868 and has been in the hearts of Keokukians ever since. On Dec 2, 1985, there was a fire that destroyed the Bank's operations center and did smoke damage to the main bank building. The rebuilding process -- a new operations center and executive office wing and the complete remodeling of the original main bank building -- began in late 1986 and was completed in early summer 1987. A Grand Opening celebration was held in September 1987. It is still just as wonderful and has stood the test of time."

University of Washington Nuclear Reactor Building (More Hall Annex) -- Seattle, Washington
"Historic Seattle, Docomomo-WEWA,and friends 'heart bombed' the University of Washington Nuclear Reactor Building (aka More Hall Annex) on February 13. This building, which has been placed on the National Register of Historic Places, is under threat of demolition due to the expansion of the University of Washington's Computer Science and Engineering facilities. The Nuclear Reactor Building, completed in 1961, was designed by The Architect Artist Group (TAAG). With concrete structural elements and expanses of glass, the design enabled public observation of the nuclear reactor and faculty research. The reactor was decommissioned in 1988, and since then the building has remained vacant. As our heart bombing demonstrated, the Nuclear Reactor Building is well-loved, and we believe its preservation and reuse should be integral to future plans for the University of Washington's campus."

Phillips Temple and Crawford's Bakery -- Indianapolis, Indiana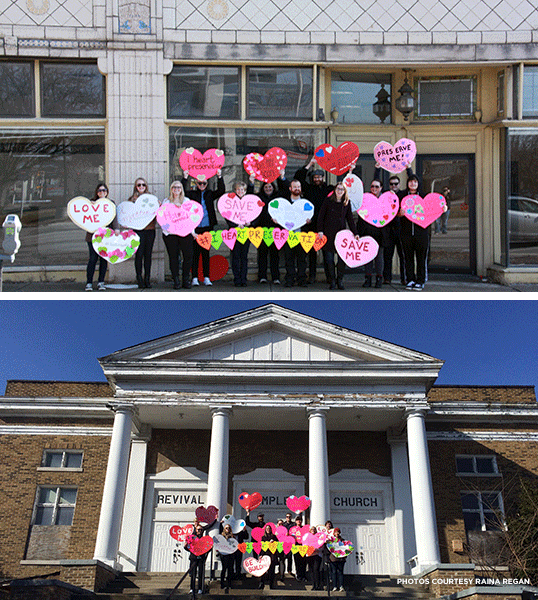 "On Saturday, February 7, young Indiana preservationists shared their love for two endangered Indianapolis buildings. The first, Phillips Temple, a 1924 African-American landmark listed on the National Register of Historic Places in the Flanner House Homes historic district. Indianapolis Public Schools wants to demolish Phillips Temple to create more parking for the adjacent high school.
We also showered the former Crawford's Bakery building with some love. This community-loved landmark is unique for its one-of-a-kind terracotta façade. Located on a prominent corner on a busy thoroughfare to downtown Indy, almost anyone you talk to (preservationists and non-preservationists alike) will declare their love for this small building. Unfortunately, its days are numbered, and Indianapolis' architectural heritage will be a little less beautiful when it's gone."
(Sad update: Crawford's Bakery was demolished shortly after the heart bomb took place.)

Ridgeway -- Cynthiana, Kentucky
"Ridgeway is one of those special places that epitomizes the Kentucky narrative. She is a southern belle steeped in agricultural necessity. From corn, to tobacco, to horses, she kept her wits about her and stood strong through years of war and economic hardship. She was built by a U.S. Congressman and on the backs of slaves who were later freed as the original owners took them to Illinois. As they decided to stay near the family, they worked alongside Abraham Lincoln, forging a new frontier in the west. Soon after, Ridgeway was host to a Union encampment, as two battles raged nearby in this border state struggling with sympathies and identity.
As the nation rebuilt itself, Kentucky and Ridgeway continued its agricultural prominence. One of her last owners was known far and wide for his Trotter horses, which resulted in one of Ridegway's last modifications: her cupola at the top, placed there to watch the horses trot around their track.
Walking the solid chestnut floors from nearly 200 years ago, the distance of time seems shorter. She is one of those magical places that remind us of how far we've come, and how far we have yet to go. Her story is representative of our state and the nation. Even still, as her fate swings precariously in the balance, she stands tall, defying the wishes of her would-be executioners. She tells it like it is: unfiltered history with its uncomfortable warts and blemishes. Like a cultural mother, with scars from labor, she is beautiful and deserving of our unending love and protection."

Elks Lodge Building -- Lewistown, Pennsylvania
"The former Elks Lodge building has been standing empty for almost 10 years. The formidable stone structure was finished in 1928. In its heyday, the building was bustling with 1,000+ members, club activities, high school proms, dinner dances and social functions. Many people I talked with remember Sunday dinners in the grand dining room after church and a few recalled their prom or first date happening there.
With membership declining and maintenance costs rising, the Lodge moved to a smaller facility in 2000. After a few years standing in as the temporary jail while a new one was being built, the 'old Elks Club' was abandoned and left to the pigeons. But the locals just love the structure. Maybe it's the massive stone walls or the architectural style that's unlike anything else in town. But then again, maybe it's more likely about the thousands of memories these stone walls hold."

The Chattanooga State Office Building -- Chattanooga, Tennessee
"The Chattanooga State Office Building is a beautiful mid-century modern building that is built to withstand time with materials such as ruby granite and grey limestone on its exterior. Donald Draper wasn't the only one with a cool office space in the 1950s; this building featured a penthouse lounge for employees and a bowling alley in the basement for recreation. I love this building not only because mid-century style buildings matter, but because it helps represent the overarching issue of preservation on college campuses. This place matters."

The Elisabet Ney Museum -- Austin, Texas
"Elisabet Ney was a brilliant, fiercely independent, extremely talented sculptress who immigrated to the Texas frontier; her home and studio in Austin is a local, state, and national treasure. At 58 years old, this German-born sculptress restarted her career with a commission to sculpt Texas statesmen Sam Houston and Stephen F. Austin for the Texas Pavilion at the Chicago World's Fair.
She built her studio, Formosa, in the burgeoning suburb of Hyde Park in 1892, expanding it further with a castle-like tower in 1902. At the turn of the century, Elisabet Ney's studio became a gathering place for influential Texans drawn to 'Miss Ney' and to the stimulating discussions of politics, art, and philosophy that took place there. Following her death in 1907, her friends preserved the studio and its contents as the Elisabet Ney Museum and established the Texas Fine Arts Association dedicated to her memory.
The museum is now owned and preserved by the City of Austin Parks and Recreation Department, and holds the majority of her European and American works. It is listed on the National Register of Historic Places, and is a member of the National Trust for Historic Preservation's Historic Artists' Homes and Studios program."

1400 Block of Market Street -- Wheeling, West Virginia
"The 1400 block of Market Street in the heart of Wheeling's downtown is the topic of many conversations between the local government and preservation groups. These three buildings are not only rich in history but are absolutely essential to the continued revival of our downtown.The loss of these structures would disconnect the main thoroughfare between the thriving Centre Market area, our local college, and the downtown district,which is only just now beginning to see signs of investment and revitalization. The Wheeling Young Preservationists chose these structures to adorn in our 3rd annual Lovescaping campaign in hopes of drawing the eye of a potential investor."

Downtown Omaha -- Omaha, Nebraska
"On February 14, Restoration Exchange Omaha and a team of 50 volunteers heart-bombed six vacant buildings in Omaha, Nebraska. Facing below-zero wind chills, we professed our love for the city's forgotten gems. The six sites were chosen from 26 sites submitted via the Restoration Exchange Facebook page because they represent a variety of styles, typologies, and neighborhoods and we felt they could inspire thoughts of preservation and redevelopment in the hearts of any willing developer."

Town of Port Royal -- Port Royal, Virginia
The Fox Tavern of Port Royal, Virginia built circa 1767
"Why Port Royal, Virginia? I was born and raised in Virginia, but it wasn't until a year ago that I found myself driving down Highway 17 past the town of Port Royal. I'd heard that it was a 'hidden town' of historical significance--but one that was overshadowed by Fredericksburg and Washington, DC to the north, and Williamsburg to the south. What I found surprised me: buildings from the 1750s and 1800s that were remnants of a busy port city along the Rappahannock River.
So when I heard about the Heart Bomb 2015 event presented by the National Trust for Historic Preservation, I felt that this was an opportunity to shower Port Royal with a little love--and a way to express my gratitude for the residents of this town and how they've held onto their history despite their geographic isolation and economic challenges. When I visit Port Royal I can close my eyes and feel the history, and I can imagine it fully restored and a wonderful colonial-era port town come-to-life. That is what I wish for the town of Port Royal, and why I spent a cold and windy Valentine's Day placing hearts on all of the buildings that deserve our love and care."
Have a heart bomb you'd like to share with us? Email editorial@savingplaces.org with your best photo and one paragraph telling us about your special place.

Ed. note: Submissions were edited for length and clarity.
Like this story? Then you'll love our emails. Sign up today.