Heart Bombs at National Trust Historic Sites: Staff and Visitors Feel the Love
Last month, we on the National Trust editorial team sent an impassioned plea to our Historic Sites department: "Buy glitter. Make hearts. Show us the love."
And boy, did our sites deliver! Twelve of our National Trust Historic Sites across the country coordinated love-filled heart bombs to show the world why they love their historic place so much. We've gathered some of our favorite photos from their events -- complete with heartfelt quotes about each site from its staff, supporters, and visitors -- and shared them with you here. Happy Valentine's Day, everyone!
P.S. Interested in hosting your own heart bomb for a place you love? Here's how you can make a heart bomb happen.

Belle Grove docents and volunteers pose with Karen Haizlett, Outreach and Volunteer Coordinator.
"We love Belle Grove for its beautiful architecture, stunning landscape, and fascinating 250-year history, and our staff, board, and volunteers love continuing its tradition of hospitality and spirit of community ‐‐ we invite others to come fall in love with it too!"

"Vaclav Hasek, a board member of Save CR Heritage, said rather than posting small hearts, the group designed its own large‐scale heart banners using bed sheets, which could be visible from a distance. Examples can be found on buildings in the New Bohemia district, where, like Brucemore, the owners have allowed the banners to be hung.
"I think the heart bombs accomplish creating an awareness in the sense of place," Hasek said. "Neglected properties seem to convey the sense that the city or building owners don't care; they've given up, and heart bombs highlight that, contrary to appearances, somebody still cares."
In addition, the heart is such a well‐known symbol, that "people on the street seem to immediately get that somebody must really 'love' that building," he said. "Who doesn't like sharing a sense of pride and joy about a thing or place, especially when we're highlighting the built heritage of our community?"
Janssen said the campaign can raise awareness about historic preservation in a variety of places beyond Brucemore, such as Czech Village, New Bohemia and downtown.
"The built environment that we maintain or neglect or abandon defines us and the choices we make," Janssen said. "It's about appreciating the value of these places, maintaining the character of our neighborhoods and the uniqueness of our city."

"At Cliveden of the National Trust there are so many historic buildings to love! The recently expanded interpretation at Cliveden explores life at Cliveden beyond the Chew family, the War for Independence and the Georgian architecture, to incorporate the story of the lives of the enslaved and those in service to the Chew family, the struggle for freedom and includes the service buildings on the property. We decided to Heart Bomb the Cliveden Kitchen Dependency, a structure in need of restoration to enable us to tell a more complete story of life at Cliveden over 200 years. We also Heart Bombed Upsala, a former house museum across the street from Cliveden that is currently under our stewardship and looking for its next life."

"Valentine's Day comes once a year, but here at Drayton hall, we love historic preservation from January to December. Historic preservation takes many forms, but at its heart is the idea that old buildings enrich our lives in many ways and deserve our good stewardship. On a sunny day in early February, Drayton Hall staff and volunteers gathered to "heart bomb" Drayton Hall -- that is, show our love for the historic house and landscape with handmade Valentines. We chose to stand in front of the house's iconic portico, which is currently undergoing stabilization and is receiving some extra love from our preservation team."

"We love Farnsworth House because of its continual beauty throughout the four seasons. We love how it represents what masterwork humans can create while being nestled in the awesomeness of nature. We love the house because to enter it is like entering a modern American temple, with a feeling of quiet contemplation and internal joy. We love it because it contains a spirit that draws people to it and brings people together. It takes everyone by surprise and etches an indelible impression on the mind. Because we love it, it will always be worth fighting over, and for. We love Farnsworth House because a one‐room country dwelling can be as powerful as the tallest city skyscraper."

"We Love Our Site! The Gaylord Building is a beautiful reminder of Lockport's history. Nestled along The I and M Canal, patrons can dine at the Public Landing Restaurant and explore the heritage of the region in the exhibition galleries. The building is a time capsule of our past that can be shared with generations to come. Today the site is professionally managed and continues to thrive. I "love" that The Gaylord Building holds the history of our past and continues to enrich our future." --Laura Pratt, GA Lewis University, History Department

"We love Louis Dupuy's Hotel de Paris because it contains stories about people who reached a time of decision. Since all of us are approaching a crossroads, at a crossroads, or emerging from a crossroads in our own lives, the hotel's stories of reinvention of oneself offer hope for what is to come. The boldly refashioned and re-imagined futures of the proprietors and workers at Hotel de Paris illustrate, in essence, the possibility of second chances."
Fun fact: The heart chains contain 162 hearts ... 54 feet of paper chain!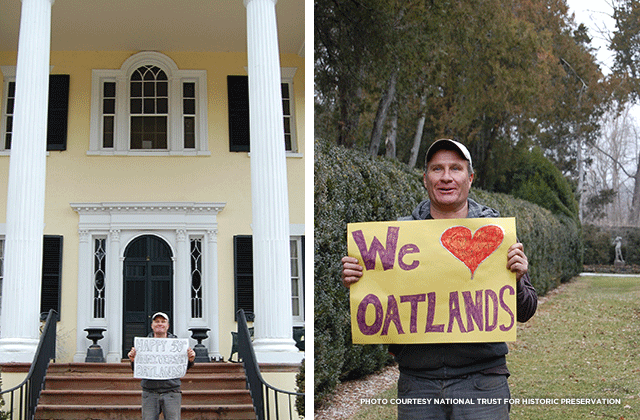 Mark Schroeter, Garden Department, shares two heart bombs.
"We single out Oatlands as our Valentine because we love it! It is truly a magical place no matter what season. You can meander through intricate gardens, picnic under a shady grove of centuries old trees, investigate one of the oldest greenhouses in America, tour a beautiful mansion built in 1804, and visit with friends over afternoon tea in our Carriage House. These heart bombs are just a small token of our love. Come visit Oatlands today and discover your own reasons for loving it!"

"Visitors to President Lincoln's Cottage fall in love with the authentic, tangible connection to Abraham Lincoln that this historic setting offers. Dozens of visitors participated in our Heart Bombing experience by sharing what they love about Lincoln and President Lincoln's Cottage on paper hearts. The range of reflections captures the variety of visitors whose lives are impacted by Lincoln's time here. Here is a sample of those reflections:

"I really liked seeing the house, walking inside it, and feeling how old it is."
"I love Lincoln, and our awesome guide brought him to life! I am of Caribbean descent, I know very little about American history, and the tour here motivated me to learn more. "
"Our guide was awesome! We live in the neighborhood and are so glad we got to have this fun experience."
"I loved touching the same banister as Abe!"
Our team gathered all of the hearts and arranged them on the footpath leading from our life‐size Lincoln statue to the Cottage entryway. Lincoln walked that path every evening as he retired to his beloved seasonal residence. We invite you to cross that threshold, too, and fall in love with President Lincoln's Cottage."
Walk-in visitors with their tour guide Mollie DeMoor, pictured right
"People always tell me they love the Shadows not only because it's beautiful but also because it's peaceful. Weeks Hall, [the] last owner of the site, said the same thing in 1940. I have lived on this place attending to it. Nothing has meant more to me ... No place is more tranquil or ageless. Its inherent charm has been in its placid seclusion from a changing world, and that will be its value to others." -- William Weeks Hall

"We love being able to walk into spaces where a President lived and experience it as he did. The unaltered building and garden create an awesome atmosphere for the original furnishings and personal objects."

"We love James Madison's Montpelier because, as is evident with the new interpretive slave quarters on the South Yard, the history of this special place is a story with many culturally diverse layers which we still continue to discover and unfold today.
Like this story? Then you'll love our emails. Sign up today.