New Orleans' Saenger Theatre Weathers the Storm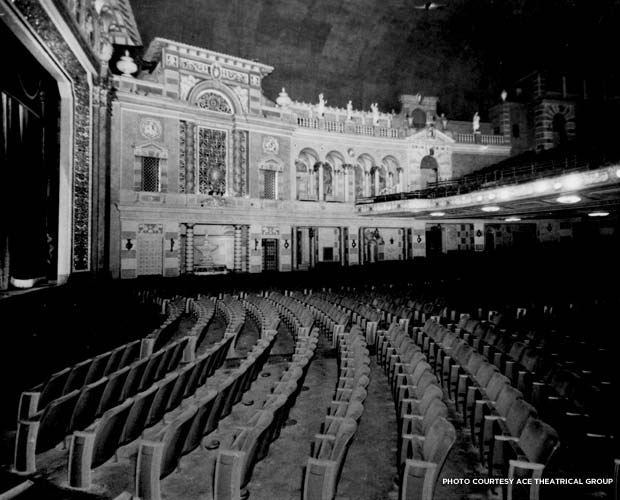 A view of the theater's interior, circa 1930.
New Orleans' Saenger Theatre, located on historic Canal Street in the French Quarter, has been a beloved landmark since it opened as a movie palace in 1927. With an interior styled to look like a 15th-century Italian courtyard and a ceiling painted to emulate the night sky, the theater's design embodied New Orleans', and America's, last flush of prosperity before the Great Depression.
The theater was converted to a performing arts space in the 1970s, hosting acts such as Johnny Carson, David Bowie, and Bill Cosby. In 2005, Hurricane Katrina caused massive water damage to the Saenger's interior. After a push and strong show of interest from the local community, followed by an eight-year restoration, the venue is undergoing a grand reopening this weekend.
The theater's basement was filled with over 20 feet of water during the storm, covering the stage and causing damage to administrative offices and the box office as well as the theater's beloved vintage Robert Morton Wonder Organ. Through a public-private partnership and help from the federal rehabilitation tax credit program, architect Gary Martinez, from the Washington, D.C.-based firm Martinez + Johnson, worked to restore the building to its former glory.

The theater originally opened in 1927.
"In a lot of the public spaces, we try to save as much of the historic materials as we possibly can -- plaster work, finishes, stone, whatever it is," Martinez says. His firm specializes in preservation and restoration projects, including work on Washington, D.C.'s Howard Theater, a historic venue for famous African-American performers that re-opened in 2012.
The Saenger was restored, with as much historical accuracy as possible, up to the stage's proscenium wall, while much of the area behind the proscenium was rebuilt due to rot and warping from the water damage. Martinez's work on the Saenger meant paying attention to countless details, such as the look and feel of the theater's original light fixtures, windows, and carpeting. Eleven of the building's original chandeliers were found in a local antique shop and re-purchased to be put back in their rightful places.

A detail from the interior restoration of the theater.
Martinez explains that the refurbished venue should draw in 350,000 people in a given year, greatly benefitting the retail areas along Canal Street. "These projects tend to be huge economic drivers," he says. "They develop and reoccupy areas of the cities that have been passed by by economic growth."
The theater was christened with a performance by Jerry Seinfeld on Friday, Sept. 27, and an opening gala took place on Thursday, Oct. 3. A concert featuring Emmy and Tony Award winner Kristen Chenoweth and the Louisiana Philharmonic Orchestra will follow on Oct. 5.
For Martinez, finishing this nearly decade-long project -- and letting go of the sense of ownership that went along with it -- is bittersweet.
"It was an incredibly special project for us," he said. "It's so highly visible of the city coming back from Katrina, of normalcy being restored. It's very, very exciting to have this happen."
Like this story? Then you'll love our emails. Sign up today.