[Travel Itinerary] Rugby, Tennessee
The Thomas Hughes Free Public Library, named after Rugby, Tennessee's founder, contains 7,000 volumes and 1,000 periodicals.
The village of historic Rugby is nestled in Tennessee's Cumberland Plateau, tucked within the craggy bands of mountains that define much of northeast Tennessee's rugged landscape. The Rugby community was founded by English social reformer Thomas Hughes, a liberal member of English Parliament and author of the hugely popular novel, Tom Brown's School Days.
Concerned about the social and economic inequity faced by England's "second sons" and the American working class, Hughes sought to establish a cultured community free of the social constraints endemic to 19th-century society. Believing there was little desire for social reform in England, Hughes set his sights on America where he believed agricultural opportunity would give energetic and talented young men a fresh start.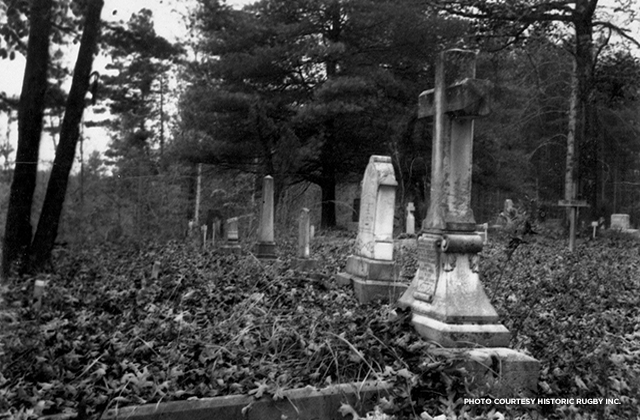 Rugby's Laurel Dale Cemetery is the burial place for many of the town's original members.
Rugby was established in 1880, and by 1884 the colony possessed many hallmarks of success -- a population of 300 and a planned community which boasted a large collection of Gothic Revival-style residential, commercial, and public buildings.
The community and its saw mills, tennis and croquet courts, dairy, boarding houses, stables, butcher shop, apothecary, and weekly newspaper attracted both British and American media coverage. At its peak, two trains a day ran to Cincinnati bringing an influx of visitors and connecting the colony to the larger world. But early success gave way to declining fortunes and disappointment.
An 1881 outbreak of typhoid fever claimed seven lives and drew negative international press, slowing Rugby's growth. Unusually severe winters and questions regarding the legality of land titles also furthered the colony's decline.

Rugby's 1882 Thomas Hughes Free Public Library is thought to be the oldest extant public library in the South.
Rugby's grand hotel, the Tabard Inn, named for the lodge in Chaucer's Canterbury Tales, burned in 1884. The hotel, the heartbeat of the village's resort economy, was rebuilt but burned a second time in 1899. No one among Rugby's dwindling population had the funds or the heart necessary for rebuilding.
Though Rugby declined, the community was never abandoned. A small contingent of colony descendants remained into the mid 1960s.
As a native Tennessean, I considered myself well acquainted with my state's history. But I had no inkling of Rugby's story until an archaeologist friend invited me to join him in on a visit to the village. He proved an able guide -- hiking down the gorge to the Clear Fork River; swimming in the Gentlemen's Swimming Hole; standing within the shelter of Beacon Hill's gazebo, gazing at the rivers tumbling hundreds of feet below; walking through the peaceful glade of Laurel Dale Cemetery, the resting place for many of Rugby's original colonists. Place names here ring with an almost magical quality -- Wren's Nest, Percy Cottage, Meeting of the Waters.

Left: Rugby's Christ Church in September of 2013. Right: The town's print shop.
Guided tours begin at Rugby's Museum Visitor Center, open Thursday-Saturday 10:00 a.m. to 6:00 p.m. and Sunday noon to 6:00 p.m. Eastern time. Fees for site admission and the guided walking tour range from $7 for adults, to $6 for seniors (age 60 and above), and $4 for students K-12. Preschoolers are free. Buildings open for public tour include:

Thomas Hughes Free Public Library: Constructed in 1882 and named for Rugby's founder, the library is Tennessee's oldest public lending library. It is believed to be the oldest extant public lending library in the South. Designed in the Gothic Revival style, the library retains its original collection, a catalog numbering 7,000 volumes and 1,000 periodicals. A direct product of shifting late-19th-century cultural values, founders perceived their library to be a stabilizing instrument in a democratic nation, recognizing it as the means for improving all facets of everyday life.
Kingston Lyle: This residence, constructed in 1884 for Thomas Hughes, is based upon the English Rural Style made popular by American landscape designer Andrew Jackson Downing. The residence and associated garden reflect the colony's implicit desire that its buildings and landscape harmonize with their wooded environment.
Rugby Schoolhouse: Constructed in 1907, this schoolhouse replaced the colony's original schoolhouse, which was lost to fire in 1906. Designed to serve multiple purposes, the structure has functioned as a school, church, and later, as a meeting place for the local Masonic order.
Christ Church Episcopal: Designed in the Carpenter Gothic style, Christ Church was constructed of the virgin pine, walnut, and poplar so prevalent on the Cumberland Plateau. The church contains all of its original furnishings and stained glass. It has been in continual use since 1887.


The interior of Rugby's Christ Church Episcopal.
Over the course of many visits, Rugby became a special place for me and the kind archaeologist who first introduced me to the village. In time, this gentle, funny man won my heart. And on a warm October afternoon, within the embrace of Christ Church, he became my husband. All relationships should be blessed with such an abundance of history and tradition.
When You Go: Breakfast, lunch, and dinner are available at Rugby's Harrow Road Cafe. The Big South Fork National River and Recreation Area adjoins the village of Rugby, forming the its northern boundary. The recreation area covers 125,000 acres and is home to the limestone Twin Arches, numerous hiking trails, and Blue Heron Campground. The Big South Fork Scenic Railway is located near Big South Fork and offers year-round railway tours.
Like this story? Then you'll love our emails. Sign up today.