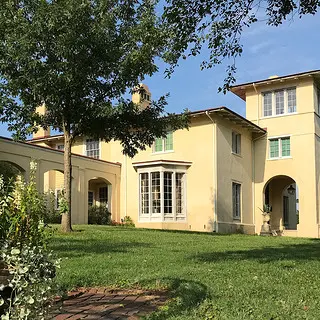 Blandwood, America's oldest Italianate-style house and museum, was designed in 1844 by New York architect Alexander Jackson Davis. Its innovative design and inventive construction serves as a remarkable touchstone to mid-19th-century tastes in American architecture, art, and the decorative arts. The influential house embodies the creative spirit of its owner John Motley Morehead, the state's 29th governor and the "Father of Modern North Carolina." Morehead and Davis sometimes worked together to select stylish finishes, furnishings, and art that would portray North Carolina as a progressive state. The house was a showplace for the era, as depicted in landscape architect Andrew Jackson Downing's publication, "A Treatise on the Theory of Landscape Gardening."
Blandwood held a pivotal role in the social history of North Carolina during the mid-19th century. Human rights activist Dorothea Dix was a guest in the house as she successfully lobbied Governor Morehead for a state hospital to serve those with mental illness, and North Carolina was surrendered to the United States Army in Blandwood, ending the Civil War here. Morehead was an industrialist, and he entertained guests in the house to promote industrial opportunities and investments across the state. Morehead's wife, Eliza, was educated and artistic, and made her abolitionist opinions known to her husband. Sometimes branded as an abolitionist himself, Morehead both enslaved people and lobbied for new laws to expand freedoms of African American citizens. This complicated political posture is revealed in the design of the house, which balances public and private space, artisanal and high-styled furnishings, and local and nationally popular art.
Today, Blandwood is a remarkably well-preserved museum that provides important insights on American history, design, and art through ticketed tours year-round.
Closed on major national holidays.

Benefits for National Trust Members
12% Discount on General Admission Tickets