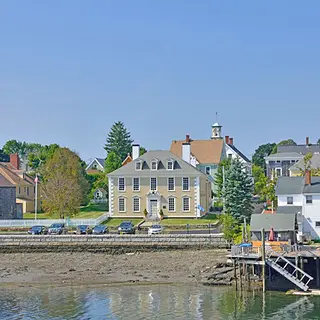 Located in the historic South End of Portsmouth, New Hampshire, the Wentworth-Gardner house faces the back channel of the Piscataqua river. The house was built as a wedding gift for Thomas Wentworth and his bride, Anne Tasker. The Wentworth family was a powerful dynasty in colonial New Hampshire, and their wealth is demonstrated in the heavy carving and exquisite detail of the formal parlor, parlor chamber, and traditional hallway, which extends the entire depth of the house.
In 1793, Major William Gardner bought the house and moved in with his second wife, Elizabeth. Major Gardner lived in the house for forty years until his death at age 83. His third wife, Sarah Purcell Gardner, remained in the house until 1854. Later owners converted the mansion into a tenant house at a time when the waterfront neighborhood had become somewhat disreputable. Pubs and brothels clustered along Mechanic Street and the surrounding streets.
In 1915, the house was purchased by Wallace Nutting, a photographer and antiquarian. He restored the home in the Colonial Revival manner and photographed models in almost all of the rooms. In 1918, Nutting sold the house to the Metropolitan Museum of Art in New York City. The Met prized the house for its detailed carving and nearly perfect Georgian architecture. Plans were made to move the house to New York.
But the Stock Market crash of 1929 and subsequent Great Depression put to rest any ideas of relocating the house to New York City. The Society for the Preservation of New England Antiquities (now Historic New England) furnished the house and briefly operated it as a house museum. In 1940, the house was purchased by a group of preservation-minded local citizens who established the Wentworth-Gardner and Tobias Lear Houses Association, now known as Wentworth Lear Historic Houses.

Open Memorial Day through Columbus Day.
Benefits for National Trust Members
$5 Admission