National Trust Awards $1.6 Million in Grants to 27 Sites to Help Preserve African American History
2020 African American Cultural Heritage Action Fund Grant Recipients
On July 16, 2020, the National Trust for Historic Preservation announced more than $1.6 million in grants to 27 sites and organizations through its African American Cultural Heritage Action Fund.
Brent Leggs, executive director of the Action Fund, notes, "The recipients of this funding exemplify centuries of African American resilience, activism, and achievement, some known and some yet untold, that tell the complex story of American history in the United States. With urgency and intention, the nation must value the link between architecture and racial justice, and should fund these and other cultural assets to ensure their protection and preservation."
Over the past two years, the National Trust has funded 65 historic African American places and invested more than $4.3 million to help preserve landscapes and buildings imbued with Black life, humanity, and cultural heritage. This year's funds, provided by The Andrew W. Mellon Foundation, were awarded to key places and organizations that help the Action Fund protect and restore African American historic sites. Grants are given across four categories: capacity building, project planning, capital, and programming and interpretation.
Below, learn more about the full list of grantees.
Africatown Heritage Preservation Foundation
Africatown Heritage Preservation
(Mobile, Alabama)
Founded by the descendants of the Clotilda—smuggled on the last slave ship to come to the United States in 1860—Africatown Heritage Preservation will be hiring their first executive director to help preserve their unique heritage and aid in revitalizing and promoting their town.
Steve Jones
Clayborn Temple
Clayborn Reborn (Memphis, Tennessee)
Clayborn Temple in Memphis, Tennessee, was the gathering and organizing space for civil rights and labor activists during the Sanitation Workers' Strike of 1968. Its pastor printed the famous "I AM A MAN" signs still relevant today. Its 1892 Romanesque Revival building is undergoing restoration, and funding will enable them to hire a preservation specialist to inform and allow them to continue to tell their story.
Inclusive Communities Project
Tenth Street Historic District
Tenth Street Residential Organization (Dallas, Texas)
Dallas' Tenth Street Historic District is one of the few remaining Freedmen's Towns that is still an active neighborhood. Established by newly freed Africans after the Civil War, it has a collection of modest folk and vernacular dwellings dating from the 1890s to the 1940s that are currently under threat of development pressure and demolition.
Purnell T. Cropper
Paul Robeson House and Museum
West Philadelphia Cultural Alliance (Philadelphia, Pennsylvania)
Trailblazing actor, activist, and humanitarian Paul Robeson lived in this 1911 Philadelphia Victorian rowhouse for the last ten years of his globetrotting life. It is now a museum and the headquarters for the West Philadelphia Cultural Alliance, acting as a lecture hall and community gathering space for local cultural workers and neighborhood revitalization projects.
Maxville Heritage Interpretive Center
Maxville Heritage Interpretive Center
(Joseph, Oregon)
In the early 1920s, sixty experienced Black loggers from the South were recruited to work in the logging town of Maxville, Oregon, during a time when the state itself still had Black exclusion laws. The Maxville Heritage Interpretative Center tells their story and more about African American rural life in the Pacific Northwest.
While We Are Still Here
While We Are Still Here
(Harlem, New York City, New York)
One of the most famous African American neighborhoods in the world is also one of the fastest gentrifying neighborhoods in New York City. While We Are Still Here's mission is to share, preserve, and educate others about Harlem's rich cultural history and international influence.
John G. Riley Center & Museum
Florida African American Heritage Preservation Network
John G. Riley Museum (Tallahassee, Florida)
Based in Tallahassee, this statewide network of 32 African American museums and historic sites will be able to continue its mission of promoting the preservation of African American legacies throughout the state of Florida. They will be producing a guide and training that will help other historical organizations with the succession transition process when long-time leaders depart.
Jeanne Cyriaque
Georgia African American Historic Preservation Network
Georgia Historic Preservation Division (statewide)
Serving 5,600 heritage constituents statewide, the Georgia African American Historic Preservation Network will be able to strengthen their board and provide technical assistance. This will allow them to continue their efforts to engage grassroots advocates as well as identify and promote the inclusion and use of diverse places throughout Georgia.
Banneker-Douglass Museum
Banneker-Douglass Museum Foundation
Maryland Commission on African American History and Culture (Annapolis, Maryland)
The Banneker-Douglass Museum is the only museum in the country operated by an African American state commission, the Maryland Commission on African American History and Culture—the first state ethnic commission in the nation. Housed within the 1874 former Mt. Moriah AME Church, the museum's hiring of a development director will help them achieve their programmatic and philanthropic goals.
Reverend Robert Turner/Vernon AME Church
Historic Vernon Chapel AME Church
(Tulsa, Oklahoma)
When the prosperous African American community of Greenwood ("Black Wall Street") in Tulsa, Oklahoma, was destroyed by a rampaging mob of more than 10,000 racist white residents in 1921, Historic Vernon Chapel AME Church was almost all that was left. Survivors of the Greenwood Massacre rebuilt it, their names inscribed on the stained-glass windows that are currently in need of stabilization and restoration.
LTFC
Historic McDonogh 19 Principal's Office
Leona Tate Foundation for Change, Inc. (New Orleans, Louisiana)
In 1960, three African American girls integrated McDonogh Elementary School in New Orleans, attending an otherwise empty school for almost a year in the face of white resistance to their presence. This project will interpret their experience that first day as they waited outside the Principal's Office all day while the rest of the students were removed. This space will be a place of reconciliation and healing as part of an anti-racism training center and exhibition space.
Mays Lick Community Development Board
May's Lick Rosenwald School
Mason County Fiscal Court (Maysville, Kentucky)
Built in 1921 and an early example of its type, May's Lick Rosenwald School is one of the few remaining Rosenwald schools in Kentucky. Currently in need of rehabilitation, May's Lick is distinctive as it is brick and has a basement, an unusual feature for a Rosenwald school.
Wade Catts
Historic Dennis Farm House
Dennis Farm Charitable Land Trust (Brooklyn Township, Pennsylvania)
A rare story of an African American farm owned by the same family since the Colonial era, the rebuilding and restoration of Dennis Farm's 18th-century farm house is a testament to their perseverance and seeing the breadth of the American history through the lens of Black free landowners.
Boston City Archive
National Center of Afro-American Artists at Abbotsford
(Roxbury, Massachusetts)
Housed in an 1872 High Victorian Gothic mansion, the National Center of Afro-American Artists is the only space dedicated to the exhibition of Black visual arts in Boston. Replacing its deteriorating roof will protect its collections and interior furnishings for future generations to enjoy.
Klein and Hoffman
Muddy Waters House
Muddy Waters Mojo Museum, Inc. (Chicago, Illinois)
Legendary blues performer Muddy Waters lived in this 1889 house in Chicago for twenty years, also using it as a rehearsal studio and temporary quarters for musicians. The house needs roof replacement and stabilization, and the grant will enable the museum to make those critical repairs.
Omaha Economic Development Corporation
Omaha Star Publishing Company
Omaha Economic Development Corp. (Omaha, Nebraska)
Still in operation, the Omaha Star is Nebraska's largest African American newspaper. In need of restoration, the 1922 building was purchased in 1938 by journalist Mildred Brown and tells the story of African American women journalists like her, as well as the story of Black activism and advocacy in one of the least racially and economically inclusive cities in the U.S.
J. Paul Getty Trust
Founder's Church of Religious Science
(Los Angeles, California)
Founder's Church was designed in 1959 by renowned African American architect Paul R. Williams, the first Black architect in the American Institute of Architects (AIA). With a career spanning nearly 50 years, Williams designed thousands of buildings in Los Angeles and was one of the region's most influential architects.

Preservation Design Studio LLC
Historic Brockway Center and Historic Lyons Mansion
Oklahoma City Urban Renewal Authority (Oklahoma City, Oklahoma)
A demolition intervention success story, the 1915 Brockway Center was the headquarters of the Oklahoma City Federation of Colored Women's Clubs for almost 50 years. The Lyons Mansion property was constructed between 1912-1926 by a prominent local African American entrepreneur. Both sites need restoration and are two of only a few historically significant African American landmarks still standing in Oklahoma City's urban core.
Katherine Seeber
Historic Mitchelville Freedom Park
(Hilton Head Island, South Carolina)
Established in 1862, Mitchelville was the first self-governed town of formerly enslaved people in the United States. Located on Hilton Head Island, the Historic Mitchelville Freedom Park explores Gullah Geechee Sea Islands culture and African American history during Reconstruction and includes the Fish Haul Archaeological Site.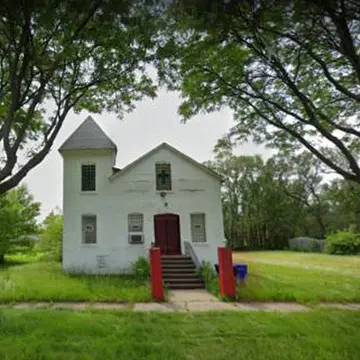 Sweet Water Foundation
The Commonwealth Planning Project
Sweet Water Foundation (Chicago, Illinois)
This visionary project will develop a community-led plan to reimagine and revitalize ten blocks in Chicago's South Side into The Commonwealth by restoring historic structures and transforming vacant spaces and buildings into housing, urban agricultural, and cultural and educational spaces.
The Clifton House
(Baltimore, Maryland)
Home of luminary African American poet Lucille Clifton, the Clifton House will provide established and emerging writers and artists with networking and creative development, education, and programming opportunities.
Andrea Douglas
Mapping C'ville
Jefferson School African American Heritage Center (Charlottesville, Virginia)
As part of an ongoing project and visual analysis examining racial discrimination in African American built environments, Mapping C'ville will research and teach the rich history of Black communities in Charlottesville and central Virginia from the 18th century to the present.
Association of African American Museums
Association of African American Museums (AAAM)
(Washington, D.C.)
With 625 members in 41 states, AAAM is the premier organization for African American museums nationwide. Funding will enable AAAM to strengthen their board and create training for its members about the preservation, identification, and evaluation of African American historic sites.
Adrian Sas
Lewis Latimer House Museum
(Flushing, New York)
Located in Flushing, New York, the museum interprets the life of African American inventor Lewis Latimer, who improved electric lighting and drafted the telephone's patent. This will help the museum with their promotion efforts and ability to engage with the public and their constituents.
Montana Historical Society Research Center
Montana State Historic Preservation Office
Montana Historical Society (statewide)
From forts and businesses to places of worship and saloons, a documentary film will be created about the untold stories of places relating to African Americans in Montana and the West. Using interviews, location footage, and poetry, it will offer a comprehensive and insightful narrative of Black experience in the state.
Stan Kaady
Sweet Auburn Works
(Atlanta, Georgia)
Sweet Auburn Works will lead the Historic African American Neighborhood and District Summit (HAANDS), an interdisciplinary convening of organizations and practitioners focused on African American neighborhoods and commercial places in order to create a national network and an annual conference.
City of Minneapolis
AACHAF Vision Grant: City of Minneapolis
(Minneapolis, Minnesota)
The world has reacted and responded to the tragic murder of George Floyd in the city of Minneapolis, which will receive funding for documenting the history being created there now as well as for uncovering the stories of Minneapolis' African American past.
Support the African American Cultural Heritage Action Fund
The Action Fund marks a major step forward in how we save and sustain historic African American places. We invite you to join us.
Like this story? Then you'll love our emails. Sign up today.