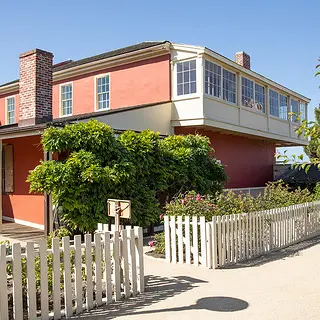 5 Sunny Historic Places to Visit This Winter
It's officially been winter for more than a month now, and if you're tired of shoveling snow or wearing a puffy coat, never fear. We've combed the pages of recent issues of Preservation magazine to find a host of warm (or at least warm-ish) historic U.S. places you can visit this winter to take the chill off. Read on for our selection of hot spots.
Cocoon House, Sarasota, Florida
If you're a fan of tiny houses and/or Modernist architecture, take the opportunity to get inside the Cocoon House, built in 1950 on Florida's Siesta Key. Also called the Healy Guest House, the 750-square-foot gem was designed by Ralph Twitchell and Paul Rudolph, pioneers of the architectural movement known as the Sarasota School. They covered its suspended steel roof with a spray-on vinyl compound developed by the United States Navy and used jalousie walls to open the house to sunlight and bayou breezes. The Sarasota Architectural Foundation worked with architect Joseph King to restore the house in 2018, and the foundation is leasing it through April of this year. Tours will take place in February and March; visit saf-srq.org for more details.
Cooper Molera Adobe, Monterey, California
For a glimpse of life in California during its days as a Mexican territory, step inside the earthen walls at Cooper Molera Adobe. This recently restored National Trust Historic Site in downtown Monterey (also shown at top) contains a pair of photogenic old barns, a house museum in the former Cooper residence, and artfully designed gardens with plenty of places to sit and relax. Admission to the site is free, and the museum has no velvet ropes or off-limits spaces. You can test out the furniture or even play the piano if you like, according to our Fall 2019 cover story. In case hunger strikes, the property's Alta Bakery offers tasty pastries, coffee, and breakfast/lunch items, while Cella, a farm-to-table restaurant that's also part of Cooper Molera, is slated to open sometime this year.

Montgomery, Alabama
Educator, artist, and tour company owner Michelle Browder told us in the summer of 2018 that "there's a renaissance happening" in tourism around social justice, civil rights, and slavery history. The Montgomery, Alabama, resident runs More Than Tours, which offers creative, in-depth itineraries. The company's Montgomery Mystery Tour includes underground tunnels that served the slave trade, as well as key downtown buildings constructed by enslaved workers. The Truth and Reconciliation Tour visits the Equal Justice Initiative's Legacy Museum and National Memorial for Peace and Justice. And the Civil Rights Tour serves as an intro to the most famous events and people in the city's history, such as Martin Luther King Jr., Rosa Parks, and the 1965 Selma to Montgomery March.
Anaheim Packing House, Anaheim, California
In the early days of the 20th century, acres of citrus trees covered the land in Orange County, California. The fruit had to be picked and packed for its owners to make a profit, and the company now known as Sunkist Growers built a Spanish Colonial Revival-style citrus warehouse in the city of Anaheim in 1919. Almost a century later, LAB Holding rehabilitated the building, turning it into the Anaheim Packing House food hall. Vendors in the National Register-listed building sell everything from sushi and Syrian food to bubble tea and gelato. Other converted structures, including a former 1920s luxury car showroom, offer more food and drink options within a few steps. And it's a 6-minute drive from Disneyland.
San Antonio Missions, San Antonio
In our Winter 2019 issue, we included the San Antonio Missions Trail on our list of visit-worthy urban historic trails. This Texas hiking and biking path, part of San Antonio Missions National Historical Park, connects the city's five Spanish Colonial-era missions. All five complexes were named a single UNESCO World Heritage Site in 2015, and for good reason: Their 18th-century stone walls contain a wealth of cultural and architectural history.
The National Trust has its own history of working to help preserve the San Antonio Missions. The park was the site of a 2015 HOPE Crew project, and in 2018 one of the five, Mission Concepción, received a $250,000 capital grant from the National Fund for Sacred Places. While you're walking or biking around the Missions, you can also visit Villa Finale, a National Trust Historic Site—the trail passes right by it.

Like this story? Then you'll love our emails. Sign up today.