Barbara Baer Capitman: South Beach's Art Deco Hero
Written by Sophia Dembling

Barbara Baer Capitman led an ultimately unsuccessful protest to protect the Biscaya Hotel, which was demolished in 1987.
She had a squeaky voice that people mocked. She was shy and soft-spoken. Her obituary in The Los Angeles Times stopped just short of patronizing, calling her an "intrepid little old lady."
But if not for Barbara Baer Capitman, the magnificent collection of Art Deco buildings of Miami's South Beach -- the nation's first 20th century National Historic District -- would be just a memory, most likely replaced by high-rise hotels and condos.
Capitman was a political organizer in the 1940s, but after she married and had children, she lived a traditional life.
"She was a very loving, dear mommy and invested much of her life in her husband's work and bringing up her kids," says her son John, a professor of public health at California State University, Fresno. "At the same time she was a towering intellect with a brilliant understating of art history, political history, [and] social organizing."
In 1976, Capitman's sons were grown; her husband -- a marketing professor and activist for civil rights and corporate responsibility -- had died the previous year. She was ready for her second act.
"She so much admired how my father worked for positive causes and outcomes, she didn't want to just sit back," says John.

A police officer escorts Barbara Baer Capitman from a protest at the Senator Hotel, which was demolished in 1988.
The only child of German Jewish parents, Capitman grew up during the heyday of Art Deco design and had a passion for it -- as well as socialist inclinations and a degree in art history. Miami Beach, which had had a development boom in the 1920s and a little popularity bump in the 1960s (thanks to Jackie Gleason), had been on a downward trajectory since then. In the 1970s, residents were mostly Jewish retirees, many of them Holocaust survivors.
"And the whole population was living in this Art Deco treasure," says John -- although that treasure, a collection of high-style hotels, was neglected and tatty.
With the goal of both rescuing the district and respecting its low-income residents, Capitman and industrial designer Leonard Horowitz founded the Miami Design Preservation League (MDPL), which was incorporated in 1977.
In 1979, thanks to their efforts, a square-mile Art Deco district was listed on the National Register of Historic Places. National media started taking notice in 1980, when at his request, Capitman and Diane Camber (then MDPL's executive director) gave artist Andy Warhol a tour of the hotels.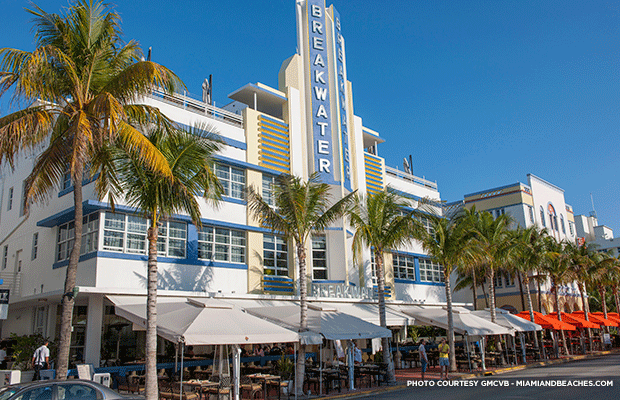 Hotel Breakwater, designed by Anton Skislewicz, dates to 1936. It was renovated and reopened in 2011, retaining the original exterior, tower and signage, and incorporating the former Edison Hotel next door.
Still, this moment in the spotlight didn't seal the deal. Though Capitman worked tirelessly and passionately -- at times chaining herself to hotels in an effort to save them -- the losses mounted. Just a month after Warhol's visit, the Boulevard Hotel was demolished. The New Yorker Hotel followed less than a year after that.
Dismay over the demolition of the New Yorker helped spur ordinances to preserve other structures. While this didn't end the demolitions altogether (and local preservationists are now facing a similar fight over notable single-family homes), it did turn the trend -- as did the stylish 1980s hit television show, Miami Vice, filmed around South Beach.
In 1980, with media coverage of the district increasing, Capitman and Horowitz traveled cross-country in search of other Art Deco treasures, raising awareness and planting the seed for Art Deco societies in other cities. In 1988, Capitman's book, Deco Delights: Preserving the Beauty and Joy of Miami Beach Architecture, was published.
The fight to save Miami's Art Deco consumed Capitman for the rest of her life. And though he's heard the gossip claiming she was forced out of MDPL because of her grating ways, John recalls that at the time she was in her late 60s, in poor health, and ready to let younger people take over the cause.

The Colony Hotel, opened in 1935, was designed by Henry Hohauser, who helped define South Beach style.
Capitman died in 1990. She received several posthumous honors, and in 1994, Rediscovering Art Deco: A Nationwide Tour of Architectural Delights, which she had written with Michael D. Kinerk and Dennis W. Wilhelm, was published. In 1996, 10th Street between Washington Avenue and Ocean Drive was renamed Barbara Capitman Way.
Today, of course, the Art Deco treasures of South Beach have been polished to a fabulous gleam, and the district is celebrity-studded and world-renowned -- although John believes his mother would be saddened that the inexorable march of gentrification has forced out low- and middle-income residents.
"How did that happen, and is that what we wanted?" he wonders. "That's not the easiest story to tell, but that's what my mom cared about."
Still, it doesn't diminish the tremendous legacy Capitman left the nation by drawing awareness to our Art Deco treasures while there was still time to save them. It was a hell of a second act.
Sophia Dembling is the author of 100 Places in the USA Every Woman Should Go.
Like this story? Then you'll love our emails. Sign up today.