Five Buildings Designed by Cass Gilbert
The Fall issue of Preservation magazine features the Allen Memorial Art Museum at Oberlin College, which was designed by Cass Gilbert at the height of his impressive architectural career. Part of Gilbert's approach to his work was to focus on local communities to inform his design work and to involve regional artists in beautifying the buildings. That approach is very apparent in his work, as can be seen in these five examples.

The Palace of Fine Arts, as it was once called, became home to the St. Louis Art Museum.

Palace of Fine Arts (St. Louis Art Museum)
Year built: 1904
Purpose: 1904 World's Fair
Location: St. Louis, Missouri
Current Status: Art museum
The Palace of Fine Arts was built for the 1904 World's Fair (also known as the Louisiana Purchase Exposition, celebrating the 100th anniversary of the historic purchase). When the fair had concluded, the Saint Louis Museum of Fine Arts, which was founded in 1879, moved into this new building. Gilbert had also designed a second building for the fair, Festival Hall, which was used for music performances.
Because the Festival Hall and the Palace were built close to each other, the exposition organizers felt that Gilbert should be paid for one building, but Gilbert argued that he should be paid for designing two. This process actually helped Gilbert secure clientele in Saint Louis as he met other exposition directors and learned that there was to be a commission for a new library for St. Louis, and he received that commission a few years later.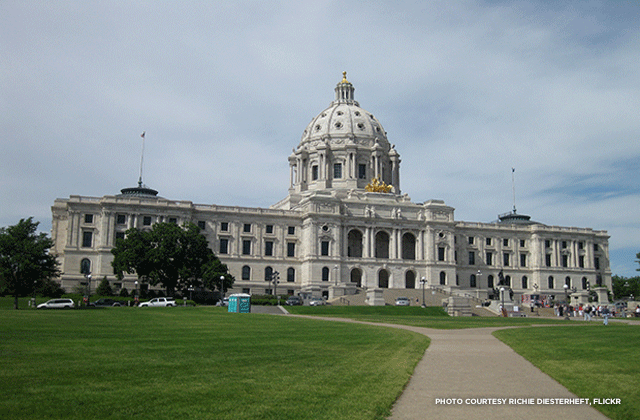 The Minnesota State Capitol, covered with a Georgia marble exterior and a Minnesota limestone and granite interior.

Minnesota State Capitol
Year built: 1905
Purpose: Minnesota state government
Location: St. Paul, Minnesota
Current Status: Minnesota state government
Gilbert's commission for this ambitious project established his national reputation as an architect. Not surprisingly, Gilbert looked to other government and capitol buildings, such as the U.S. Capitol and the Library of Congress, for inspiration for the Minnesota Capitol. He also traveled to Europe and modeled the Minnesota capitol dome after Saint Peter's Basilica in Rome.
There was a large controversy over the kind of stone that would be used. Gilbert planned to use light marble from Georgia, but Minnesotans felt that their capitol should be built with native stone. There was also a lot of contention between labor groups over who would provide and cut the stone. In the end, the exterior was made of Georgia marble, but critics were satisfied when the rest of the building was built with granite and limestone from several different Minnesotan cities (Winona, St. Cloud, and Kasota).

The New Haven Free Public Library was made possible by Mary E. Ives' generous donation, as well as Cass Gilbert's focus on elegant, local architecture.

New Haven Free Public Library
Year built: 1911
Purpose: Public library
Location: New Haven, Connecticut
Current Status: Public library
Gilbert believed that architecture should reflect the purposes, location, and importance of the building. As such, he often used refined, elegant designs that supported existing local architecture. In the case of New Haven Free Public Library, Gilbert said he wanted the building to be "distinctive and monumental and at the same time … preserve the proportions of spirit of the fine old architecture of New Haven."
The library's red brick facade is framed with the white marble details. The main entrance design was inspired by Judge William Bristol's home, which used to stand on the same property. The building is also known as the Ives Memorial Library, as it was sponsored by Mary E. Ives in her husband's memory.

Though no longer the tallest in New York, the Woolworth Building is still among the most impressive and beautiful skyscrapers of the early 20th century.

Woolworth Building
Year built: 1913
Purpose: Corporate offices
Location: New York City, New York
Current Status: Offices and luxury apartments
The Woolworth Building, with its nearly 800 feet of Gothic-inspired architecture, was called "The Cathedral of Commerce." It was the tallest building in the world before it was surpassed in 1930. Frank W. Woolworth hired Gilbert to design a corporate office building that would become a "standing advertisement" in both height and beauty. The result of that commission is a beautiful skyscraper, with architectural terra-cotta decorating its steel frame.
The main lobby is also very impressive. Intricate mosaics cover the ceiling, and there are sculpted figures depicting key players in the building's construction (including Woolworth and Gilbert) near the entrance. Inside and out, the Woolworth Building stands today as a testament to the confidence and enthusiasm that existed in early twentieth-century America.

One of the architect's later works, Gilbert planned for many sculptures and friezes inside and outside the Supreme Court building.

United States Supreme Court Building
Year built: 1935
Purpose: Supreme Court headquarters
Location: Washington, D.C.
Current Status: Supreme Court headquarters
For nearly a century and a half, the Supreme Court moved from one building to another until they finally took permanent residence in the "temple of justice" designed by Gilbert. Like the Woolworth Building, this structure features artistic renditions of people who were involved in creating the court and its current headquarters. Those figures are directly above the pillars at the west entrance, and Gilbert can be found second to the left, talking with Secretary of State Elihu Root. Throughout the interior and exterior of the building are a number of sculptures and friezes that depict many historical and allegorical figures related to the development of law in America and throughout the world.
Like this story? Then you'll love our emails. Sign up today.