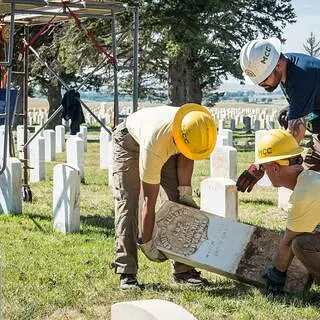 Military Veterans Tackle HOPE Crew Project at Custer National Cemetery
It's one of the most famous battles in American history. In May, 1876, Lt. Colonel George Armstrong Custer and his 7th Cavalry tracked down roughly 8,000 Cheyenne and Sioux Indians in southeastern Montana and stepped into battle with about 1,800 of them. The rest, as they say, is history.
Now a small piece of that history is being restored, with help from the National Trust, The Corps Network, The Montana Conservation Corps, and the National Park Service's Historic Preservation Training Center.
138 years later to the month, the National Trust's HOPE (Hands-On Preservation Experience) Crew program began connecting national youth corps participants with preservation projects from Virginia's Shenandoah Valley to New Mexico's Old Santa Fe Trail Building. The program will eventually bring thousands of young Americans to work on hundreds of sites, and teach them preservation craft skills from tuck pointing to carpentry, to window restoration, while restoring historic places in the process.
"The opportunity to honor fallen veterans through their service restoring these headstones was personally moving"

Jono McKinney - Montana Conservation Corps
Beginning July 14, a HOPE Crew comprised of members from the Montana Conservation Corps began work on the cemetery's headstones, which mark the graves of soldiers from the Battle of Little Bighorn, the Spanish-American War, both World Wars, the Korean War, and the Vietnam War.
"This HOPE crew project was very special for our veterans corps members," says Jono McKinney, President and CEO of Montana Conservation Corps. "The opportunity to honor fallen veterans through their service restoring these headstones was personally moving. Each felt a bond through generations of service with his peers in combat. They connected to this work in such an intimate way, and found deep purpose in this HOPE project."
The crew, comprised of two 'hitches' of six corps members each -- including the HOPE Crew's first all-veteran hitch representing each branch of the military -- cleaned the headstones and adjusted the height and orientation of stones to coincide with the Veterans Affairs set of standards.

"An all-veteran HOPE Crew is a great example of how the program continues to expand to engage different audiences," says Monica Rhodes, who oversees the HOPE Crew program for the National Trust. "[This type of training] is another opportunity for returning veterans to transition into an industry that could benefit from their proven leadership skills and work ethic."
During the work, which ended August 8, corpsmembers also received visits and support from two representatives from the office of Senator, Jon Tester (D-MT).
"The park really appreciates this partnership opportunity, and we were able to complete some work that we would not have been able to accomplish without the program," says Christopher T. Ziegler, Chief of Cultural and Natural Resources Management for Little Bighorn Battlefield National Monument. "We are excited to be a part of a program that helped train future stewards in preservation skills. After all, NPS will be the direct benefactors of this future labor force."
But it's not just the cemetery that's seen a bit of a makeover in the last number of years. In an effort to reflect the history of both sides of the conflict, the name of the monument was changed from Custer Battlefield National Monument to Little Bighorn Battlefield National Monument in 1991. Since then, NPS has worked alongside local Native American organizations to erect a monument to those that opposed Custer's men and incorporate their story into the interpretation of the site.

"When the park first opened, interpretation largely focused on General Custer," says Rhodes. "With the inclusion of Native American organizations, visitors are able to experience another side of the story, allowing us to celebrate other voices in American history."

Like this story? Then you'll love our emails. Sign up today.