Transitions: Threatened—Pilgrim Baptist Church
In each Transitions section of Preservation magazine, we highlight places of local and national importance that have recently been restored, are currently threatened, have been saved from demolition or neglect, or have been lost. Here's one from Spring 2016.
When Pilgrim Baptist Church in Chicago's Bronzeville neighborhood was badly damaged by a fire in 2006, its congregation and members of the community hoped to one day rebuild.
Dating from 1891, the church was originally constructed as a synagogue and designed by renowned architects Dankmar Adler and Louis Sullivan. It became home to Pilgrim Baptist Church in 1920, and is considered to be the birthplace of modern American gospel music. Thomas Dorsey, known as the "Father of Gospel Music," was the music director from 1932 until the late 1970s, persuading greats such as Mahalia Jackson to sing at the church. Martin Luther King Jr. also delivered a sermon there, according to members of the congregation.
Plans to restore Pilgrim Baptist have stalled over the past 10 years due to lack of funding and the project's overwhelming scope. More recently, groups including Partners for Sacred Places, Preservation Chicago, Landmarks Illinois, and the National Trust for Historic Preservation have worked with the city and the church to consider next steps.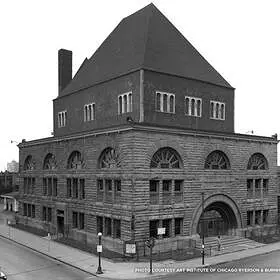 Like this story? Then you'll love our emails. Sign up today.