National Trust for Historic Preservation Board of Trustees
The National Trust is governed by a Board of Trustees that provides the organization with counsel, guidance, and leadership.
Martha Nelson
Chair; Elected 2013, 2016, 2019-2023 (Term extended due to service as Chair)
(New York, NY), serves as Chair of the Board. Martha most recently served as Yahoo's Senior Vice President/ Global Editor-in-Chief. She is the former Editor-in-Chief of Time Inc., where she was responsible for the editorial content of all 21 of Time Inc.'s U.S. magazines and its wealth of digital products, including tablet offerings, websites, video and mobile.
Prior, Ms. Nelson served as Editorial Director overseeing the 17 titles and editors in the company's Style & Entertainment Group and Lifestyle Group. A 20-year veteran of Time Inc., her earlier positions included: Editor for Style & Entertainment Group; Group Editor for Time Inc.; Editor of the PEOPLE Group; and Founding Editor of InStyle. She earned numerous honors during her tenure including being named one of the "World's Most Powerful Women" by Forbes magazine for three consecutive years.
Phoebe Tudor
Vice Chair; Elected 2015, 2018, 2021-2024
(Houston, TX) serves as a Vice Chair of the Board of Trustees. Mrs. Tudor is a preservationist and community volunteer, primarily in the areas of the arts, quality of life, and education. She served for seven years on the Houston Archeological and Historical Commission, three of those as Chairman. She is the founder and Chairman of the Julia Ideson Library Preservation Partners, responsible for raising funds and overseeing the restoration and addition to the city's oldest library. Mrs. Tudor was the Centennial Chairman for Hermann Park, which raised money for a new Centennial Garden and Pavilion. Mrs. Tudor is chair and co-founder of the Astrodome Conservancy, working to establish a public-private partnership to help repurpose Houston's Astrodome.
Mrs. Tudor has a B.A in Art History from the University of Virginia and an M.A. in Historic Preservation from Columbia University. She was appointed the Mayor's Preservationist of the Year in 2013 and received the President's Award from Preservation Houston in 2014. She serves on the Dean's Advisory Board of the Rice University School of Architecture. She serves on the boards of the Nantucket Historical Association, The Museum of Fine Arts Houston, The Houston Parks Board, Preservation Houston, The Hermann Park Conservancy, the Bond Oversight Committee for the Houston Independent School District, and is President of the Board of the Houston Ballet. Mrs. Tudor and her husband, Bobby, were named Philanthropists of the Year by the Association of Fundraising Professionals in 2009. They have three children.
William J. Bates, FAIA, NOMA
Elected 2020-2023
(Pittsburgh, PA) is a Pennsylvania Architect with global corporate real estate and property management experience. Mr. Bates has served as a small firm partner in architectural practice, Fortune One-hundred corporate manager, a bank vice president, a high tech startup executive, and restaurant chain executive. Mr. Bates is passionate about diversity, the built and natural environment. While retired from corporate practice he currently teaches architecture at Carnegie Mellon University.
Mr. Bates' volunteer leadership history includes roles as former board chair of the Pittsburgh History & Landmarks Foundation's for profit Landmarks Development Board, a founding member of the Allegheny County Parks Foundation and former Vice President of the Allegheny Land Trust. Mr. Bates has been an active member of the American Institute of Architects for the past 30 years and served as the organization's national 2019 President. The Governor of Pennsylvania has recently appointed him to the State Architects Licensure Board.
Christina Lee Brown
Executive Committee Member; Appointed 2017, Elected 2017, 2020-2023
(Louisville, KY) founded the Center for Interfaith Relations and went onto launch the first U.S. Festival of Faiths in Louisville, Kentucky. Ms. Brown is a co-founding board member of the Berry Center. The mission of the center is to perpetuate a culture that uses nature as the standard, that accepts no permanent damage to the environment and that takes into consideration human health in local communities.
Ms. Brown is also the founder and Chair of the Advisory Board of the Institute for Healthy Air, Water and Soil. Ms. Brown is an International Trustee of Religions for Peace and serves on the Boards of the Sustainable Food Trust and the Louisville Orchestra.
Elizabeth (Betsy) Kirkland Cahill
Executive Committee Member; Elected 2020-2023
(Charleston, SC) is an author, civic volunteer, and preservationist. Ms. Cahill began her career at the New York Shakespeare Festival, where she co-authored Shakespeare Alive! with Joseph Papp and served as an assistant director on Shakespeare productions. Ms. Cahill subsequently held executive positions at the New York Public Library, including director of public affairs. Ms. Cahill has been a regular writer for religious journals, including Commonweal and America, and recently contributed to a volume on the phenomenon of religious disaffiliation (Empty Churches, forthcoming from Oxford University Press).
In 2010, Ms. Cahill earned a master's degree in Religion (Hebrew Bible) from the Yale Divinity School. Ms. Cahill also holds degrees in Classics from Harvard and in English Literature from Oxford, where she was a Rhodes Scholar. Ms. Cahill has been a Trustee of the Greenwich (CT) public library, the Association of American Rhodes Scholars, St. Andrew's School (DE), and Ashley Hall. After returning to Charleston, her hometown, in 2010, she joined the board of the Preservation Society of Charleston and has served as its chairman since 2015.
Samuel Dixon
Executive Committee Member; Appointed 2017, Elected 2017, 2020-2023
(Edenton, NC) is a practicing lawyer with Dixon and Thompson Law, PLLC. Mr. Dixon's practice focuses on capital defense, real estate transactions and historic preservation. A lifelong preservationist, Samuel has been involved with local and national preservation organizations for many years. He has served on the boards of Preservation North Carolina, the North Carolina Coastal Land Trust, the Fair Trial Initiative, and as a member of the Board of Visitors of the University of North Carolina.
He currently serves on the board of the Edenton Historical Commission, the North Carolina Museum of History Foundation, the Museum of Early Southern Decorative Arts and the National Main Street Center. He is a member of the North Carolina Historical Commission and the North Carolina National Register Advisory Committee. Samuel and his wife, Gray, chaired the National Trust Council from 2014-2017. Since 1999, Mr. Dixon has been elected to serve on the Edenton Town Council where he serves as the budget Chairman. In 2013, he was awarded the Cannon Cup, North Carolina's highest preservation honor. Mr. Dixon was graduated from the University of North Carolina in 1984 with a BA in political science and from the Wake Forest School of Law with a JD in 1987.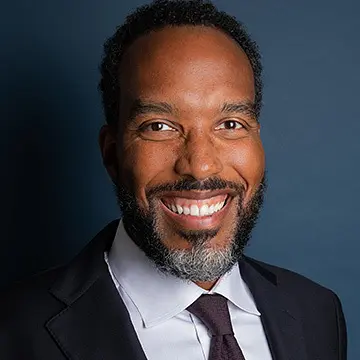 Damien Dwin
Executive Committee Member; Appointed 2018; Elected 2018, 2021-2024
(New York, NY and Washington, DC) is a Black American businessman, philanthropist, and credit-impact investor. In November 2020, he founded Lafayette Square to use debt financing to materially impact under-realized housing, employment, and financial market inclusion opportunities. Previous to his current role as CEO of Lafayette Square, Mr. Dwin served as Co-Founder and Co-CEO of Brightwood Capital Advisors from its founding in 2010 to October, 2020.
Mr. Dwin began his finance career as a trader with Goldman Sachs, New York & London, there earning the Michael P. Mortata Award for Innovation. Mr. Dwin then further developed his finance expertise working for Credit Suisse, where he was the Co-Founder and Head of the North American Special Opportunities business until 2010. At Credit Suisse, he also served on the Vice President Selection Committee and led the Fixed Income Division Credit Training Program.
Mr. Dwin is an active thought leader concerned about mass incarceration, unrealized potential of vulnerable communities, racial justice and representation, and the use of credit financing as a force for good. Mr. Dwin has written for Entrepreneur and Inc.com.
A committed philanthropist, Mr. Dwin currently serves as Chair of the Board of Trustees for Vera Institute of Justice. Mr. Dwin also serves on non-profit boards including Children's Hospital of Philadelphia, Studio Museum in Harlem, National Trust for Historic Preservation, Woodberry Forest School and Boys' Club of New York.
Mr. Dwin received a B.S./B.A. from Georgetown University where he later served two terms on the Board of Regents.
Tracy Frist
Executive Committee Member; Elected 2020-2023
(Franklin, TN & New Castle, VA) is an educator, business woman, and conservationist. She cares passionately about literacy, human-animal relationships, philanthropy for vulnerable populations, and agricultural and conservation needs for farming and nature preservation.
Tracy currently serves on the Board of Trustees of Hollins University, and the boards of Centerstone Tennessee (provides mental health and substance abuse support across multiple states), The Nature Conservancy (Tennessee Chapter), the Stephen A. Cohen Military Family Clinic, and the Heritage Foundation of Williamson County.
Alison K. Hoagland
Appointed 2022, Elected 2022-2025
(Washington, DC) Alison K. Hoagland is professor emerita at Michigan Technological University, where she taught history and historic preservation for fifteen years. Prior to that, she was the senior historian at the Historic American Buildings Survey of the National Park Service, where she worked for fifteen years.
Ms. Hoagland received her BA from Brown University and her MA in American Studies, with a concentration in historic preservation, from George Washington University. She has written five books on various aspects of American vernacular architecture and is currently working on one on Washington's row houses.

Ms. Hoagland currently serves on the boards of Westover School, a girls' boarding school in Middlebury, CT, and the Historical Society of Washington, DC. She has previously chaired the board of the Delaware Historical Society, chaired the Keweenaw National Historical Park Advisory Commission in Calumet, MI, and served as president of the Vernacular Architecture Forum. She has also served on the boards of the National Council on Public History, the Michigan State Historic Preservation Review Board, and on the Committee of 100 on the Federal City. In the early 1980s, she was an adviser to the National Trust when she was also on the board of the DC Preservation League (originally Don't Tear It Down!).
Shelley Hoon Keith
Executive Committee Member; Appointed 2018; Elected 2018, 2021-2024
(Milton, MA) is the President of Hoon Construction Services and Keith Properties where she divides her time running two ongoing real estate/subcontracting and property management businesses, while actively serving as a Director on The Tryall Club Board of Directors and The Tryall Fund, both in Jamaica.
Holding a graduate degree from the University of Nebraska-Lincoln and an undergraduate degree from State University of New York at Stony Brook, Ms. Hoon Keith, Jamaican-born, has had careers in the private, public, and nonprofit sectors, all with a focus on housing preservation and economic and community development.
Ms. Hoon Keith is a past trustee of Caritas Carney Hospital Foundation, Forsyth Dental Infirmary for Children, Boston Center for the Arts, The Forbes House Museum, and Harvard Aids Institute. Ms. Hoon Keith has received accolades for business and community commitments. Ms. Hoon Keith and her husband, John Keith, received honorary Doctors of Business Administration degrees from Curry College in 2015. In 2010 they were the recipients of the Distinguished Achievement Award from B'nai B'rith Housing New England and in 2017 they were presented with the Lawyers Clearinghouse Leadership Award in recognition of their commitment and support of affordable housing, education, and the nonprofit sector.
C.H. Randolph "Randy" Lyon
Executive Committee Member; Appointed 2018; Elected 2018, 2021-2024
(Lake Forest, IL) is Vice Chairman of Robert W. Baird & Co. Incorporated (Baird). Mr. Lyon is a member of the Executive Committee of Baird and the Management Committee of Baird's Investment Banking group. Before joining Baird in 2006, Mr. Lyon was a Managing Director and Head of Chicago Investment Banking for Lehman Brothers. Previously, he was head of the Chicago offices of J.P. Morgan & Co. and The First Boston Corporation. Randy worked for First Boston in New York and London before moving to Chicago.
Mr. Lyon has acted as financial advisor to companies in a broad range of industries. He has extensive experience in mergers and acquisitions and a wide range of debt and equity transactions for clients. Advisory clients have included Alcoa, Cox Enterprises, FMC Corporation, Gould Inc., Mallinckrodt, The Marmon Group, Milacron, Pillsbury, Quaker Oats, R.R. Donnelley, Sears Roebuck, Vigoro, and Wendy's.
Mr. Lyon is a member of the Commercial Club of Chicago and the Economic Club of Chicago. He currently serves as a Director of Teach for America – Chicago. Mr. Lyon is a former Trustee of the Woodberry Forest School, the Chicago Symphony Orchestra Association, and Ravinia Festival Association. Mr. Lyon is a graduate of Princeton University and the Darden School at the University of Virginia.
Jennifer Skyler
Appointed 2021; Elected 2021-2024
(New York, New York) is the Chief Corporate Affairs Officer at American Express. In this role, she oversees public affairs and media relations, social media, colleague communications, reputational risk management and corporate social responsibility. She is a member of the Company's Executive Committee, as well as Chairperson of the American Express Foundation.
At American Express, Ms. Skyler launched the company's first Environmental, Governance and Social (ESG) Strategy and Framework, which encompasses three core pillars: Promote Diversity, Equity and Inclusion (DEI); Build Financial Confidence; and Advance Climate Solutions. This strategy was released in the company's first ESG Report in the fall of 2020.
Additionally, to help small businesses as they recovered from the economic effects of the pandemic, Ms. Skyler and her team launched the Backing Historic Restaurants campaign, a $1 million grant program in partnership with the National Trust for Historic Preservation to support historic and culturally significant restaurants navigate the pandemic and shift toward recovery. Ms. Skyler's Corporate Affairs & Communications function also played a key role in creating the Coalition to Back Black Businesses, a collaboration between American Express, the U.S. Chamber of Commerce and the nation's four leading Black Chambers – the National Black Chamber of Commerce, National Business League, Walker's Legacy and U.S. Black Chambers, Inc. – to award $10 million to support Black-owned small business recovery in the U.S. over the next four years. The program has supported more than 600 businesses to date.
Prior to American Express, Ms. Skyler served as Chief Communications Officer at WeWork, where she built a multi-disciplinary department that included communications, government relations, public affairs, strategic events, brand, and social impact. Before this, she launched and oversaw Facebook's consumer communications and data science teams and was responsible for the press strategy around key products and partnerships that encompassed news, sports, entertainment, and social good. Ms. Skyler also worked at Polyvore, a company acquired by Yahoo, where she was the first public relations hire, leading communications and marketing strategies.
Ms. Skyler began her career in newsrooms, first at CNN, where she started as an executive assistant and rose through the ranks to become a White House producer. After working with Norah O'Donnell at MSNBC, Skyler became an anchor producer at the CBS Evening News with Katie Couric. At CBS, she was part of the team that was nominated for two Emmy Awards and won the Alfred I. duPont Award for political coverage during the 2008 election.
A graduate of the University of Michigan, Ms. Skyler majored in Communications Studies with a concentration in Japanese. She serves on the University of Michigan's Tri-State NextGen Leadership Council, is a member of the Institute for Public Relations Board of Directors, is on the National Trust for Historic Preservation Board of Trustees, sits on the Board of All in Together, and is a member of the Arthur W. Page Society.
A native of Flint, Michigan, Ms. Skyler lives in New York City with her husband, Ed, and their three children.
G. Jackson Tankersley, Jr.
Executive Committee Member; Elected 2014, 2017, 2020-2023
(Denver, CO) is a co-founder of Meritage Funds with more than 35 years of experience as a private equity investor, having raised and managed more than $1.0 billion of capital during his career. Jack is responsible for a number of highly successful investments in companies such as Crown Castle and Brooks Fiber Properties. Prior to Meritage, he co-founded Centennial Funds in 1981 and served as its CEO and/or CIO until 1997.

His career began in 1974 at the Continental Illinois Bank, where he joined the bank's venture capital subsidiary in 1978. Jack is a past President and Chairman of the Board of Trustees of the Denver Area Council Boy Scouts of America and past member of the Board of Trustees of Woodberry Forest School, which he continues to serve as a non-Trustee member of its Investment Committee.
He currently serves on the Board of Directors of Cakebread Cellars in Napa Valley, California, and the Tuck Center for Private Equity and Entrepreneurship's Executive Advisory Board. Jack received an undergraduate degree with High Honors from Denison University and an MBA from the Tuck School of Business at Dartmouth. He serves or has served as a director of numerous Centennial and Meritage portfolio companies.
Robert Joseph Vila
Elected 2020-2023
(New York, NY & Palm Beach, FL) has spent his career helping people upgrade their homes and improve their lives. He started out with his own design and remodeling business and was hired as the original host of This Old House on the Public Broadcasting System. From there his name became synonymous with home improvement. In hosting Bob Vila's Home Again and Restore America with Bob Vila, Bob taught millions of people the role that good design, and often sweat equity, have in preserving our architectural treasures. In addition to teaching through television, Bob is the author of 12 books.
Bob has broken new ground on the Internet with a fast-growing website, BobVila.com. The website has Bob's complete TV library, as well as a rich trove of exclusive original online content. From inspirational galleries to how-to articles, the site covers the entire home improvement journey. Bob also takes his advice into the social realm, with 1.5 Million+ Twitter followers, Facebook fans, and Pinterest followers.
In the last five years, Bob has channeled his passion for renovation into helping with the restoration of Ernest Hemingway's home and collections at Finca Vigía near Havana, Cuba. Hemingway lived there from 1939 until his death in 1961 and he left it to the Cuban people as a museum. This project has allowed Bob to visit his parents' homeland several times.
Bob also serves on the board of the Hispanic Society Museum and Library in New York and the Martha's Vineyard Preservation Trust.
Deb Haaland
U.S. Secretary of the Interior
Merrick B. Garland
Attorney General of the United States
Kaywin Feldman
Director, National Gallery of Art
(Washington, DC) is the Director of the National Gallery of Art. Previously, Kaywin led the Minneapolis Institute of Art (Mia) as its Nivin and Duncan MacMillan Director and President. She is a past president of the Association of Art Museum Directors (AAMD), past chair of the American Alliance of Museums (AAM), and a frequent speaker on reinventing the museum for the 21st century. She is a champion of digital technology for expanding access to art.
Born in 1966 in Boston, Massachusetts, Feldman's fascination with museums began with childhood visits and an early interest in archaeology. She earned her BA in classical archaeology from the University of Michigan and an MA from the Institute of Archaeology at the University of London. She also earned an MA in art history from the Courtauld Institute of Art at the University of London, specializing in Dutch and Flemish art, and received an Honorary Doctor of Fine Arts degree from the Memphis College of Art in 2008. Before coming to Mia, she was the director of the Memphis Brooks Museum of Art in Tennessee from 1999 to 2007.
Kji Kelly
Representative for Statewide & Local Partners; Elected 2020-2023
(Seattle, WA) is the Executive Director of Historic Seattle and has been with the organization since 2005. He has served in different capacities, including Asset and Property Manager, Director of Real Estate, and Deputy Director, before taking on the role of Executive Director in 2015. As Executive Director, he leads an organization with a $3.6M annual operating budget, a $30M balance sheet, 20 professional staff and 16 board members that prides itself on thoughtfully shaping a city that values and protects its collective history.

He has created new and enhanced traditional, team and partner centered methods of attracting and retaining new donors, board members, constituents, members and partners to advance the organization's mission. His experience also includes real estate and construction management, specializing in restoring, adaptively re-using, and maintaining historic structures. As Executive Director of Historic Seattle, Mr. Kelly key accomplishments include further integrating the organization's three major program areas of education, advocacy, and real estate. In addition, he has developed the organization to stimulate and attract economic support to save and adaptively re-use more buildings throughout the region.
David Scott Parker, FAIA
Representative for Historic Sites Advisory Councils & Co-stewardship Boards; Elected 2020-2023
(Southport, CT) is a practicing architect and principal of his own firm with broad experience on cultural institutions, preservation, restoration and adaptive-use renovation projects. Mr. Parker has worked on a number of National Historical Landmarks, including the Greenwich Historical Society, the Mark Twain House in Hartford, CT and the U.S Treasury in Washington. He is an active volunteer on the Merritt Parkway Conservancy Board and a member of the Lyndhurst Advisory Council.
David grew up in the midwestern utopian town of New Harmony, Indiana where he worked from a young age on preservation projects. He subsequently earned his undergraduate degree from the University of Virginia and a Master of Architecture from the Harvard Graduate School of Design, where he served on the Harvard Design Magazine Practitioners' Board. His firm has received three Palladio Awards, two Stanford White Awards plus numerous honors from the American Institute of Architects, as well as the National Trust for Historic Preservation's Tony Goldman Award. Additionally, Mr. Parker is well known in the field of American Decorative Arts with a specialty in the Aesthetic Movement.
Joseph E. Quinata
Representative of the National Trust Advisors; Elected 2020-2023
(Hagåtña, Guam) grew up in Humåtak village located in the southern part of the Island of Guam in the Mariana Archipelago, rich in history where the most sacred place associated with the legend of Guam's creation story and the sibling gods and where traditions claim the landing of Magellan in 1521, the first Pacific Island to be visited by Europeans.
Mr. Quinata is currently the Chief Program Officer of the Guam Preservation Trust and is a Founding and Board Member of the Humåtak Community Foundation and the Asian and Pacific Islanders American in Historic Preservation (APIAHiP).
His career in historic preservation started 28 years ago when he opened the office of the Guam Preservation Trust, a non-profit, public corporation. He is a member of the Advisory Council for the National Trust for Historic Preservation and board member of the National Historic Preservation Partners Network.
His community contributions include pioneering many local and regional cultural events, member of historic and restoration commissions, writer and contributor to locally produced publications and a mediator and board member of the Inafa'Maolek Mediation Center, a non-profit conflict resolution group.
Mr. Quinata received the 2011 National Trust Trustee's Award for Organizational Excellence for his administration of the Guam Preservation Trust. He was cited an Honorary Architect from the American Institute of Architects, Guam and Micronesia Chapter and a recipient of the Pioneer in Preservation Award honored by APIAHiP.
Each year, America's 11 Most Endangered Historic Places sheds light on important examples of our nation's heritage that are at risk of destruction or irreparable damage.
Find Out Who Is Listed