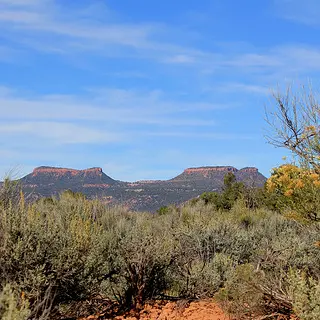 On October 8, 2021, President Joseph Biden issued a proclamation restoring Bears Ears National Monument in southeast Utah. With this action, full protections are back in place for Bears Ears, an area rich with archaeological resources, prehistoric cliff dwellings, paleontological resources, and sites sacred to many Native American tribes. The National Trust, regional, and tribal partners have worked tirelessly to re-establish protection for Bears Ears and preserve the integrity of the Antiquities Act of 1906. President Biden's executive action is a significant win for historic preservation and public lands.
The Bears Ears Cultural Landscape in Southeast Utah includes archaeological sites, cliff dwellings, petroglyphs, and ancient roads that tell stories of diverse people over the course of 12,000 years. After years of collaboration between the Bears Ears Intertribal Coalition and others, along with the public comment process, President Barack Obama named Bears Ears a national monument on December 28, 2016, and protected 1.35 million acres of land for one of the most significant cultural landscapes in our history.
On December 4, 2017, President Trump announced his decision to revoke Bears Ears National Monument in southeastern Utah and replace it with two much smaller monuments. This action removed protections from more than a million acres that include thousands of extraordinary archaeological sites vulnerable to looting and vandalism.
Strong Ties to Living Memory
President Obama was driven to action in large part due to the work of the Bears Ears Intertribal Coalition, made up of the Hopi, Navajo, Uintah and Ouray Ute, Ute Mountain Ute, and Zuni Nations, all of whom have significant ties to the region. With looting, grave robbing, vandalism, and cultural site destruction posing a serious threat to Bears Ears, the tribes came together to explain how vital it was to protect the area from harm.
Not only does the cultural landscape—totaling 1.9 million acres—represent each nation's history and their eventual forced relocation from the area, but Native Americans also return to the twin buttes to connect with their ancestors. The Navajo Nation and the White Mesa Ute Reservation border Bears Ears, and both the Navajo and Ute people frequently collect herbs and medicine, forage for food, gather firewood for heating or ceremonial use, and hunt game in the area.
Bears Ears represents other notable archeological features, too. In 1879, Mormon pioneers trekked across the Colorado Plateau on what would become known as the Hole in the Rock Trail, now listed on the National Register. The area is also near one National Historic Landmark—Alkali Ridge—and hundreds of sites that have been determined eligible for listing on the National Register.
The stunning and significant landscape is unusually intact, with many of its archaeological sites remaining as they have for hundreds of years. Its preservation, combined with the remarkable stories it tells of migration, settlement, and adaptation, continues to draw visitors from around the world.
The Road to Monument Designation
The National Trust added Bears Ears to its National Treasures program in 2014, partnering with the All Pueblo Council of Governors, Friends of Cedar Mesa, Crow Canyon Archaeological Center, the Conservation Lands Foundation, and others. In 2016, the site landed on the National Trust's 11 Most Endangered Historic Places in America list, garnering national attention.
National Trust President Stephanie K. Meeks submitted testimony to the United States House Committee on Natural Resources in September 2016, supporting national monument status for Bears Ears. And in November that same year, the National Trust's letter to President Obama urging him to proceed with federal designation was signed by 17 other preservation, conservation, and archaeology organizations.

Bears Ears isn't the only resource on the line: Alkali Ridge, Montezuma Canyon, Canyons of the Ancients, the San Juan River, and other ancestral places of Southeast Utah are also in need of additional protection. The National Trust and our partners cannot allow these critical pieces of our nation's history and culture to fall to ruin. Show your support today for Bears Ears, the ancestral places of Southeast Utah, and other national monuments protected under the Antiquities Act.
Support our work to save places that matter.
Donate
Stay connected with us via email. Sign up today.
Now accepting nominations for the 2024 list of America's 11 Most Endangered Historic Places! Letters of Intent are due October 4, 2023.
Learn More