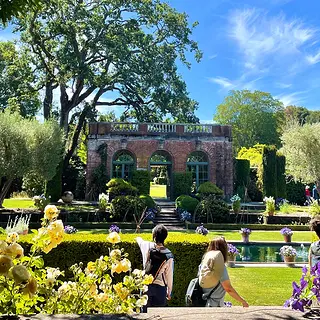 Filoli is an expansive landscape situated on the unceded ancestral lands of the Ramaytush Ohlone. Today, this estate serves as a community cultural center open daily to the public. The estate boasts 654 acres of beauty nestled along the slopes of California's coastal range.
Originally built as a private residence in 1917, Filoli was opened to the public in 1975 as a 501(c)(3) nonprofit organization and site of the National Trust for Historic Preservation. The property is considered one of the finest remaining country estates of the 20th century, featuring a 54,000+ square-foot Georgian revival-style mansion, 16 acres of exquisite English Renaissance gardens, a 6.8-acre Gentleman's Orchard, and a nature preserve with eight miles of hiking trails.
Filoli is dedicated to connecting our rich history with a vibrant future through beauty, nature and shared stories, so that one day all people will honor nature, value unique experiences, and appreciate beauty in everyday life. Filoli's mission and vision strive to live Mr. Bourn's original credo authentically: to fight for a just cause, love your fellow man, and live a good life.
Filoli is owned by the National Trust for Historic Preservation and operated by the Filoli Center.
"Fight for a just cause; Love your fellow man; Live a good life."

Credo of Mr. Bourn
Benefits for National Trust Members
Discounted Admission for Regular Public Tours
Stay connected with us via email. Sign up today.
National Trust Historic Sites are open! We encourage you to check directly with each site for up-to-date information on available activities, ticketing, and guidelines if you are planning a visit.
Plan Your Visit