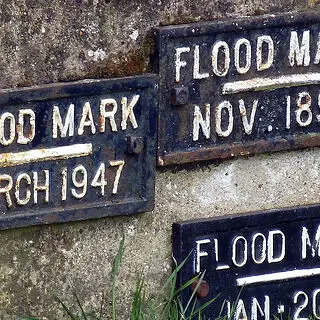 10 Tips for Bringing Historic Properties Back from a Flood
Water damage can be one of the most devastating aspects of a natural disaster. And while all structures are vulnerable to flood waters, special care needs to be taken with historic buildings in order to limit the damage to irreplaceable materials and design elements.
In the event that you find yourself in the unfortunate circumstance of dealing with a flooded historic property, here are 10 tips to get you started.
1. Document the damage.
Before starting your cleanup, take careful notes about damage to your home. This is essential not only for insurance purposes, but also to record important historic features. Photograph any items removed for cleaning or repair purposes to help ensure that they are reinstalled correctly.
2. Create an inventory of found items.
Flood waters can carry dislodged architectural features, decorative fragments, and furnishings a great distance. Items found on your property may be extremely valuable to a nearby restoration project.
3. Ventilate!

The least damaging drying process begins by using only ventilation. The most effective way to do this is to open windows and doors and allow the moisture to escape. Fans can be used to speed evaporation by moving interior air outdoors.
4. Clean the mud while it's still wet.
Rinse mud, dirt, and flood debris with fresh water as soon as possible—it is safer and easier to remove the mud while it is still wet. Avoid using high pressure water on historic materials and exercise extreme care, so as not to cause further damage.
5. Beware of a flooded basement.

Be careful when pumping water out your basement. If the water level is high, and you are reasonably sure your drains are working, groundwater levels may also be high and pumping water out could result in either more water coming in or a foundation collapse. It is generally advisable to wait for high water to recede on its own.
6. Keep an eye on cracks in the foundation.
Movement, particularly widening of cracks, is a sign of structural instability. At this point, call in a qualified structural engineer or architect for a careful examination.
7. Remove saturated insulation.
Flooding renders most insulation permanently ineffective. Saturated insulation also holds water which, if left in place, can perpetuate high moisture conditions destructive to wood, masonry, and steel.
8. Let the efflorescence take care of itself.
The what? Efflorescence is the unsightly white residue found on brick, stone, or concrete walls. It comes from impurities in the materials, but the residue is not usually harmful and frequently disappears naturally when it rains.
9. Check on your interior materials.
Drywall should almost always be replaced. Once it has gotten wet, it becomes unstable, and can be dangerous for residents. (FEMA recommends replacement as contaminants may make the drywall a permanent health hazard.) Plaster, however, is more unpredictable and may survive without damage.
10. Let wood floors, trim, and doors dry thoroughly before making any decisions.

Most wood will expand and warp when wet and then return more or less to its original form as it dries, though it depends on a variety of factors. Waiting for woods to dry can mean the difference between just needing to sand down your historic floors and replacing them.
Donate Today to Help Save the Places Where Our History Happened.
Donate to the National Trust for Historic Preservation today and you'll help preserve places that tell our stories, reflect our culture, and shape our shared American experience.
A version of this story was published on 4/26/2016.
Like this story? Then you'll love our emails. Sign up today.