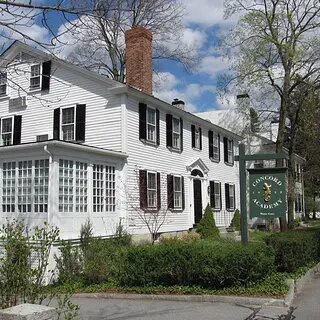 4 Storied Institutions Where Students Made LGBT History
Preservations and anthropologists study schools for numerous reasons. After all, historic schools are ripe for architectural and design research because, when they were first built, they were often among the largest buildings in small towns. In addition, schools provide context for social norms and civic values. However, schools also offer under-recognized lessons about LGBT educational history.
As the summer months peter to a close, many educators or parents may hear the phrase "affirming education." With the growing awareness around the challenges that many LGBT students face, affirming education promotes acceptance of students with diverse genders and sexualities. As educators work to include LGBT students, they face a difficult reality. While schools tend to evoke positive images of play, protection, and learning, LGBT students have historically faced isolation and abuse. Fortunately, some schools' past includes evidence of a more affirming education.
Education has long involved LGBT acceptance and affirmation. National Trust contributor from the NYC LGBT Historic Sites Project Amanda Davis has written about some of the most important developments in LGBT affirming education in the United States. For example, community members like high school teacher Rodney Wilson, who created LGBT History Month in the '90s, provided an invaluable outlet for LGBT students in unwelcoming academic environments. Still, LGBT educational history, especially a history that acknowledges the students themselves, has gone unacknowledged.
"LGBT sites … give LGBT students a sense of belongingness."

Sam Kester
Sam Kester*, a D.C.-based LGBT activist with an MA in social justice and community organizing, asserts that young LGBT people have always helped lead the movement: "They had a really big role in the '60s, [and later with] AIDS awareness. Young folks have, in general, done a lot of organizing in different movements." In particular, Kester attributes schools and universities as locations that "foster a sense of purpose, of wanting to be involved in the place around you."
The history of LGBT students and schools is long and, at times, strained. However, these four places demonstrate that LGBT youth have played a vital role in promoting educational equity and making their own history.
The Ferguson Student Union, fondly nicknamed "the Ferg," offered more resources to students while also clearing space in the Reese-Phifer hall (est. 1930), whose historic terrazzo floors faced damage from heavy foot traffic when that building served as the student union from 1930 to 1973. While the Ferg was built to help divert traffic from Reese-Phifer so that structure could be better preserved, the new student union experienced its own history in 1993.
In a unique and controversial protest, a group of about 50 LGBT students, called Seen and Heard, gathered outside the Ferguson Student Union. The organization staged a queer "kiss-off." The public display of affection shocked many community members. The controversial demonstration sparked various articles in the university newspaper, the Crimson White, and prompted deeper campus conversations about LGBT issues. Seen and Heard hosted the event to support students at other schools throughout the region who were fighting to start LGBT organizations on other campuses. This particular protest made history by using queer affection as a tool of visibility and awareness.
Stay connected with us via email. Sign up today.
Morgan State University, an HBCU in Baltimore, offers a wealth of history. In 1915, the institution received a substantial grant from Andrew Carnegie. To fulfill the conditions of the grant, the university relocated its campus to another location in Baltimore, but the predominately white neighborhoods surrounding MSU's new property protested the move. While MSU is regionally significant for fighting racial prejudice, contemporary LGBT people are also breaking ground with a media campaign to highlight queer life on historically black campuses.
Students at Morgan State University invited the national organization Many Voices to create a documentary series about the university's LGBT students. The 2016 project "My God Too" encouraged students of color throughout the United States to speak up about their own experiences studying at HBCUs or attending predominantly African American churches. The film interviewed LGBT students and allies, and students modeled a panel discussion and campus viewing of the movie. The Morgan State University students made history by creating one of the few awareness campaigns of LGBT issues on HBCUs that gained national attention.
Mills College has been questioning gender norms since 1852. The institution began as the Young Ladies' Seminary, providing a rare educational opportunity for women in a time when most of America's higher education was reserved for men. In 1865, the seminary took on a new name, Mills College, and became the first women's college on the West Coast. In 2014, Oakland's Mills College again made history when it became the first single-gender school in the United States to officially accept out transgender applicants.
This decision changed the college's application process, allowing students to designate their own gender identity on paperwork. Current students who transition to male or nonbinary genders were also welcome to stay at Mills College to complete their studies. Mills College became the first of many higher education institutions to change their gendered policies, and even co-ed campuses began to question their own paperwork and residential life policies to better accommodate transgender students. Since the admissions decision, Mills College hosts a significant and active number of transgender youth—8 percent of the student body—who have served in various campus leadership positions, including as student body president.
Concord Academy, a preparatory campus for high school students, is located in Concord, Massachusetts. Walking around campus may feel like traveling back in time. Founded as an all-girls school, the campus houses various historic structures and houses that were constructed from 1780-1830. The school boasts an early shift to co-ed learning, strong academics, and a nationally significant LGBT legacy.
In 1966, Columbia University students founded the first gay student organization, the Student Homophile League. Nonetheless, many institutions refused to officially recognize LGBT clubs that younger students organized. The first recorded high school gay student association in the United States began at Concord Academy in 1988, over 30 years ago. When history teacher and now-president of the Lower East Side Tenement Museum (a National Historic Site) Kevin Jennings came out as gay, a young ally—freshman Meredith Sterling—asked to start a club to support Concord Academy's LGBT students. Throughout the decades, the students traveled to AIDS marches, hosted numerous events, and catalyzed a national movement of gay-straight alliances across America's primary and secondary schools. While Jennings credited the student leaders for the group's success, he went on to found the national group GLSEN (Gay, Lesbian and Straight Education Network).
When asked why schools and campuses warrant LGBT historical preservation, Kester says, "LGBT sites … give LGBT students a sense of belongingness [sic], and students deserve to feel like they belong in their schools." Furthermore, Kester suggests that schools with LGBT history "help non-LGBT students know how they fit into the history of that community, too."
Young LGBT people have already shaped their schools, and they continue to break educational boundaries. Kester thinks that schools provide the ideal environment for activism: "School is where kids spend most of their day, a second home." Schools haven't always been welcoming to LGBT students, and Kester argues, "when schools have refused to provide them with the tools to be safe, queer youth have fought to make those spaces safe."
Schools and campuses like the locations listed above are significant because, Kester posits, "young people worked to break down educational barriers for future generations. Education is our future, and LGBT students have demanded change. And in changing the future, they made history."
Join Today to Help Save the Places Where Our History Happened!
*Sam Kester is a pseudonym to protect the identity of this individual.
Like this story? Then you'll love our emails. Sign up today.