Quirky Milk Bottle Landmark in Oklahoma Undergoing Restoration
Written by Kristi Eaton

Front view of the milk bottle grocery building in Oklahoma City, Oklahoma
One of the most iconic attractions of Route 66 in Oklahoma is getting a bit of a facelift.
The milk bottle grocery building in Oklahoma City has been around since 1930, but it's what sits atop the tiny triangle-shaped building that has been drawing gawkers since 1948: a massive milk bottle perched on the building's flat roof.
The building sits on Classen Boulevard, which at one point was part of the Route 66 alignment, and is now part of Oklahoma City's Asian district. It was listed on the National Register of Historic Places in 1998.
"This is so unique because it's totally isolated. It's just kind of an anomaly. It's a landmark and endearing to people," said Catherine Montgomery, preservation architect at Preservation & Design Studio, which is assisting in the restoration work.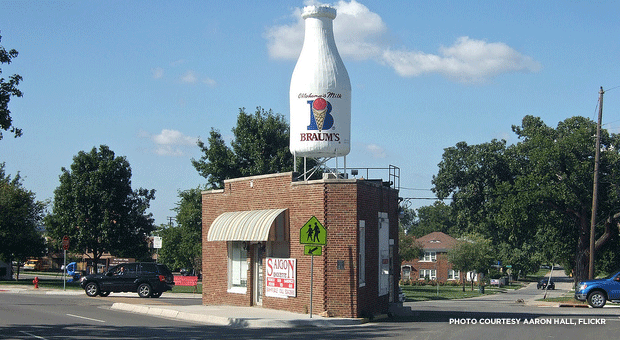 The side view of the triangular structure

The building housed Saigon Baguette, a Vietnamese sandwich shop, up until the owner passed away. It was at that point that the building's current owner, Elise Kilpatrick, decided to restore and renovate the milk bottle grocery building.
"When they pulled everything out of there to look at it, we just thought, 'We can't leave it like this.' It's been burned a couple of times," said Kilpatrick, who inherited the building from her father, who purchased it in the 1970s. Kilpatrick is using historic preservation tax credits for the work.
"Over the years, the windows had been replaced. Some of them had been completely covered over. It had just been kind of mucked over," Montgomery said. As part of the restoration process -- which is expected to be completed by the end of the year --  the transoms will be reopened, new lighting and awnings will be installed, and the interior will be refreshed, Montgomery said.
Once the work is completed, a new business will move into the building, though Kilpatrick said she couldn't yet name the business but said it would be something uniquely Oklahoman.
The building, which is just 350 square feet, is now an island among busy roads, adding to its quirkiness.
"It's awesome. Little but awesome," said Kilpatrick.

A mural adorns the side of the building.

According to the National Register information, the building has held a variety of businesses over the years, including a cleaners, a realty office, and a grocery. The milk bottle that sits atop the building has never been associated with the business that rents the building, and the odd advertisement has always been rented separately. It currently bears the name of Braum's Dairy Stores, a family-owned and operated fast-food and grocery chain based in nearby Tuttle, Oklahoma.
Though it's small in size, Kilpatrick believes restoring the milk bottle grocery building is helping to save the area's architectural heritage.
"We've lost so much of our architectural heritage and this is really a minor part of it," she said. "We've let so much of ours go. And Route 66 is awesome and we need to pay way more attention to it."
Kristi Eaton is a journalist based in Oklahoma City who enjoys exploring rural America and quirky roadside attractions. She has written a book about Main Streets in Oklahoma. "The Main Streets of Oklahoma: Okie Stories from Every County" will be available on amazon.com and Barnes & Nobel starting Oct. 14. Follow her on Twitter at @KristiEaton.
Like this story? Then you'll love our emails. Sign up today.