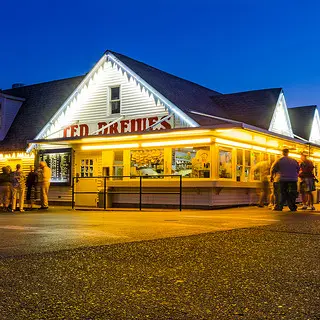 Take a Break From the Road at These Historic Route 66 Restaurants
One of the original highways commissioned in 1926 by the federal government, Route 66 is often referred to as the "Mother Road." That's because the road served as a gateway to the West throughout the early-to-mid-20th century. Generations of adventure-seekers, vagabonds, and people in search of a better life have traveled the route, and it remains a favorite of road trippers today. Although the impending expiration of the Route 66 Corridor Preservation Plan in 2019 has placed it in danger, a bill to designate Route 66 a National Historic Trail is currently circulating through Congress, and the National Trust recently named it as one of 2018's 11 Most Endangered Historic Places.
Of course, one of the best parts of any great road trip is the food, and Route 66 certainly does not disappoint. The road is lined with old-time diners and quirky local mainstays with fare outmatched only by their character. It's nearly impossible to pick just a few to highlight, but here are five can't-miss food stops that capture the essence of the "Mother Road."
No trip down Route 66 through St. Louis is complete without a stop at Ted Drewes Frozen Custard, which began in 1929 and opened its location on the route in 1941.
Four generations of Drewes family members have maintained and expanded the business, helping the frozen custard shop become not just a Route 66 highlight, but a St. Louis staple. Then in the winter, the shop becomes a Christmas tree dispensary, with the Drewes bringing back Balsam firs from their Nova Scotia tree farm to sell. According to Ted Jr., some annual tree customers still don't know they sell custard!

Best Yelp Review: "I feel somewhat silly writing this... is there anyone who doesn't know how amazing Ted Drewes is?! If you haven't been yet, seriously get off the internet right now and just go." –Stephanie J.

Once known as "4 Women on the Route" in reference to the four Galena residents who revived the former filling station as a diner and souvenir shop, Cars on the Route changed its name to highlight its primary claim to fame: A rusty, broken-down Chevrolet boom truck. The vehicle that sits on the property is actually the basis for the character Mater from the 2006 animated hit film Cars; late Pixar animator Joe Ranft came across it while exploring Route 66 for research purposes. It sits among several other vehicles restored and made to resemble other characters from the film, making Cars on the Route a great place to stop for some food and a photo op.
Best Yelp Review: "If you are a fan of the animated picture Cars and want to show some love to parts of the 13-mile stretch of Route 66 in Kansas, there's no better spot than this here old service station." –Andy N.
Midpoint Cafe—Adrian, Texas
Cars on the Route isn't the only diner on Route 66 with ties to the Pixar movie. Midpoint Cafe in Adrian, Texas, inspired Flo's V-8 Cafe, a place for Cars characters to grab a quick drink of gasoline. The town of Adrian bills itself as the midpoint of the entire route (which is more or less accurate), giving the cafe its name. Stop in for a slice of one of their signature "Ugly Crust Pies," which were coined by pastry chef Joann Harwell upon discovering that her versions of her grandmother's homemade pie recipes—though equally delicious—never turned out quite as visually stunning.
Best Yelp Review: "Celebrate you're halfway there and try their pie! We had the pie to go but it tastes just as good when you eat it in New Mexico." –Cornelis T.
If you're looking for a restaurant with more history than pop culture, the Ariston Cafe in southwestern Illinois is the place for you. The Ariston owns the unofficial designation of "longest-running restaurant on Route 66;" it's been serving up eats from around the globe at its current location since 1935 (the original location opened in 1924), and was named to the National Register of Historic Places in 2006. Its interior reflects its historical significance, retaining original walnut booths and tables, light fixtures, and an acoustical tile ceiling.
Best Yelp Review: "If you enjoy great food, excellent service and seeing the owner seat and manage one of the best-kept secrets in Illinois, then feel free to stuff your face with amazing food in a historic setting. You will not be disappointed." –Michael M.
POPS—Arcadia, Oklahoma
Over 700 flavors of soda pop. Around 475,000 people served every year. And a 4-ton, 66-foot-tall neon soda bottle out front. There's no place quite like POPS, which is why it's one of Route 66's most popular and frequently photographed attractions. In addition to offering a staggering selection of sodas (root beer is the most popular, with 80 varieties), POPS doubles as a gas station and classic diner. A second location in Nichols Hills, Oklahoma, opened in 2016, giving Oklahoma visitors and residents another spot to satisfy their soda fix.
Best Yelp Review: "If you were to get down on one knee and use a POPS onion ring to propose, you have a 92% chance to get the yes." –Connor B.
Like this story? Then you'll love our emails. Sign up today.