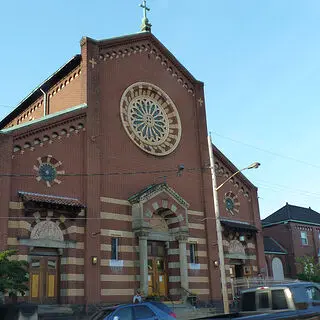 Church Brew Works in Pittsburgh, Pennsylvania
A church converted into a brewery? Strange but true, in the case of The Church Brew Works. Though worship services haven't been held in this building for more than 20 years, members of the community still gather here to enjoy good company, along with good food and drinks.

In the early 1900s, the Diocese of Pittsburgh set up a new parish and built the St. John the Baptist Church to accommodate a growing immigrant population. The church became a sanctuary and a refuge for the community in trying times, including a tremendous flood in 1936. However, a fire in January 1915, the financial burden of the Great Depression, and the loss of many young, enthusiastic male members during the two world wars had all taken their toll on the congregation and the building.
From the late 1950s to the early 1990s, there was a steady decline of industry and revenue in the community. This led to a reorganization of the parish in 1993 that included the closing of St. John the Baptist Church. The building remained empty until it was born again as a brewery in the mid-90s.

Many parts of the church were adapted and reused. The original pews were hand cut to serve as restaurant seating. Leftover planks from cutting the pews were used to build the bar. The original Douglas fir floors were uncovered and restored. The eight original lanterns were repainted to illuminate the ceiling. Bricks salvaged from the construction were reused for outdoor pillars and facades. One confessional was left intact to house Church Brew Works merchandise. The steel and copper tanks of the brewery were situated on the apse, and they now shine in front of a sky blue backdrop where the altar once was.
Location: 3525 Liberty Avenue, Pittsburgh, PA 15201
Hours: Monday-Thursday, 11:30 a.m.-11 p.m.; Friday-Saturday, 11:30 a.m.-midnight; Sunday, 11:30 a.m.-9 p.m.
You're Having: Pittsburgh Pierogie Pizza, with one of their hand-crafted beers (such as the North German Style Pilsner or the Bavarian Dunkel). They're happy to offer beer samples!
Best Yelp Review: Entering the restaurant continues to give the feel of entering a church. It is a very striking picture and the size of the enterprise is surprising. Does the food match its setting? I'd say it does.—Andrew L.
Like this story? Then you'll love our emails. Sign up today.