Discover America's 11 Most Endangered Historic Places for 2020
Each year, America's 11 Most Endangered Historic Places sheds light on important examples of our nation's heritage that are at risk of destruction or irreparable damage. More than 300 places have been listed in its 33-year history, and in that time, fewer than 5 percent of listed sites have been lost.
The 2020 list includes a diverse mix of historic places nationwide that highlight many of the cultures, stories, and experiences—including seven sites with significant connections to women's history—that help tell the full American story.
But with threats ranging from neglect to natural disasters to inappropriate development, these special places are at serious risk. Browse the list below and learn what you can do to support these irreplaceable sites.
Donate Today to Help Save the Places Where Our History Happened.
Donate to the National Trust for Historic Preservation today and you'll help preserve places that tell our stories, reflect our culture, and shape our shared American experience.
Clarence Holmes Photography/ Alamy Stock Photo
Sun-n-Sand Motor Hotel
Jackson, Mississippi
A Midcentury Modern building in the heart of downtown Jackson near the State Capitol, the Sun-n-Sand Motor Hotel was once the home away from home for Mississippi legislators as well as a gathering place for civil rights activists—most notably the multi-racial, women-led initiative "Wednesdays in Mississippi."
The building, which features metal screens, large expanses of glass, and a colorful sign, has sat vacant and deteriorating for nearly two decades. The State of Mississippi purchased the Sun-n-Sand in 2019 and plans to demolish it for a parking lot, but preservationists are advocating for reuse, emphasizing the economic benefits of rehabilitation.
Young Preservationists Association
National Negro Opera Company House
Pittsburgh, Pennsylvania
Built in 1894, this residential property served as headquarters for the National Negro Opera Company, the nation's first Black opera company, established by Madame Mary Cardwell Dawson in 1941. The home also provided temporary rooming quarters for singer Lena Horne and sports heroes such as Steelers Roy Jefferson, John Nesby, and Marvin Woodson and Pittsburgh Pirates legend Roberto Clemente.
The house is now vacant and severely deteriorated, but local advocates are working with community partners to create a plan for stabilization and identify potential new uses that honor the building's legacy.
Greg Werkheiser
Rassawek
Columbia, Virginia
Rassawek is located at the fork of the Rivanna and James rivers and was the historical capital of the Monacan Indian Nation, the town to which all others in the Monacan Confederacy paid tribute. Today the confluence of the rivers, known as Point of Fork, contains at least six National Register-eligible archaeological sites and the final resting places of Monacan ancestors.
The James River Water Authority (JRWA) plans to build a water pumping facility on the Point. Though the Monacan Indian Nation has proposed alternative locations, JRWA contends the Rassawek site is more economical.
Brooke Anderson
West Berkeley Shellmound and Village Site
Berkeley, California
This site— one of the most important and earliest known Ohlone settlements on the shores of San Francisco Bay, with a village dating back 5,700 years—served as a burial and ceremonial ground, as well as a lookout and communications site, with the repository of shells, ritual objects, and artifacts forming a massive mound.
When Spanish missions began enslaving Ohlone people, many remaining villagers fled. Shell material was later removed by Gold Rush settlers to fertilize farms and line streets. The site was mapped in 1907, and UC Berkeley archaeologists removed 95 human burials and 3,400 artifacts before the shellmound was leveled in the 1950s.
Today, the site is still an active place of Ohlone prayer and ceremony, and burials remain under the surface throughout the area—currently a paved parking lot. Although plans to build a large condo project on the site are now on hold, the privately owned site's future is uncertain.
IPRC
Ponce Historic Zone
Ponce, Puerto Rico
Located in southern Puerto Rico, Ponce is the island's second largest city and a major contributor to its political, social, economic, and cultural development. With architecture reflecting this history, Ponce's downtown is a Designated Historic Zone, one of the island's first and largest.
Beginning in December 2019, regular earthquakes and tremors have caused extensive structural damage to Ponce's historic architecture, compounding the damages caused by Hurricane Maria three years ago. Local and government organizations are working on a Recovery Plan for the Ponce Historic Zone but will need significant funding and support.
Museum of Riverside staff, Riverside, CA
Harada House
Riverside, California
As the subject of a landmark Superior Court decision granting the Harada family the right to continue to own the property, the Harada House represents an early challenge to restrictive anti-immigrant and racist property laws and a test of laws that defined citizenship by birth. The Harada family, comprised of Japanese immigrants and American-born citizens, lived in the home until forcibly incarcerated in 1942. They returned there after the war and maintained ownership until Sumi Harada died in 2000.
Harada House has fallen into such disrepair it is now at risk of collapse. Local advocates have launched a campaign to rehabilitate the house and open it to the public as part of the Museum of Riverside.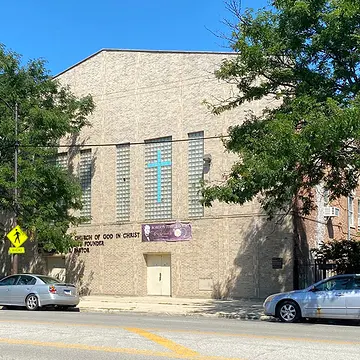 Sharon Roberts Hayes
Roberts Temple Church of God in Christ
Chicago, Illinois
The funeral and extended visitation for Emmett Till held September 3-6, 1955, at Roberts Temple Church of God in Christ were pivotal events in American history. Mamie Till-Mobley's insistence on an open casket funeral at Roberts Temple—allowing mourners to see the condition of her 14-year-old son's body, brutally murdered in Mississippi after being accused of whistling at a white woman—appalled and angered the thousands who waited in long lines to pay their respects, and helped catalyze the Civil Rights movement.
Though listed as a Chicago Landmark for its association with Emmett Till's funeral, the church today has severe structural issues and is only minimally used by the congregation. To ensure long-term viability, the building needs rehabilitation funding and partnerships.
Ezra Stoller
Terrace Plaza Hotel
Cincinnati, Ohio
Completed in 1948, the Terrace Plaza Hotel was one of the first post-war hotels in America, and the first hotel by Skidmore, Owings and Merrill (SOM). Pioneering female architect Natalie de Blois played a major role in the hotel's design.
Mostly vacant since 2008, the hotel is deteriorating. Local landmark designation passed the Historic Conservation Board in 2019. Local advocates believe that rehabilitating the Terrace Plaza will not only preserve a key early modern landmark but will provide economic benefits for downtown Cincinnati.
Sarah Zenaida Gould/Museo del Westside
Alazan-Apache Courts
San Antonio, Texas
Opened in 1940-41, the Alazan-Apache Courts—aka Los Courts—is the oldest and largest extant public housing complex in San Antonio. Conceived at a time when housing, schools, and public facilities were legally segregated, Los Courts provided affordable housing for San Antonio's majority Mexican American Westside, where families struggled with poverty, lack of municipal services, severe flood conditions, and high death rates.
Though Alazan-Apache Courts provide the San Antonio community with affordable housing and represent a part of Mexican American history, the San Antonio Housing Authority is planning to demolish these historic structures.
Yates Memorial Hospital/Historic Ketchikan
Yates Memorial Hospital
Ketchikan, Alaska
Built in 1905 as a clergy house for the Episcopal Mission, the building was re-purposed in 1909 to serve as a 12-bed hospital during the boom years of Ketchikan's growth. Many dedicated and determined women worked tirelessly as nurses, under very difficult conditions, to care for the sick and injured there.
The building has been vacant for 15 years and is suffering from a failing roof, foundations, and interior deterioration. Local supporters are raising funds to restore the building to include a museum featuring the nurses' stories, although the future financial impacts of the COVID crisis on Ketchikan's tourism-based economy are still unknown.
Hall of Waters
Excelsior Springs, Missouri
About 30 miles northeast of Kansas City, the Hall of Waters was built in 1938 with assistance from the Public Works Administration as a mineral water health resort. At one time, the facility bottled and sold four distinct types of mineral waters, and also featured "the world's longest water bar," a complete health spa, and a competition-size swimming pool.
While the building, which is owned by the City of Excelsior Springs, still operates as city offices and a tourism welcome center, it has more than $16 million in rehabilitation needs, exceeding what this small community can undertake with public funds.
Like this story? Then you'll love our emails. Sign up today.